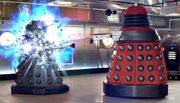 Disintegration was the utter destruction of an object or lifeform.
What appeared to be disintegrator beams were employed the Game Station in 200,100, where they were used to seemingly execute humans who lost the game shows there. Such beams were used by the Anne Droid of The Weakest Link and by Davinadroid within the Big Brother House. However, it was revealed that these disintegrators were actually transmats which transported the people to the Dalek Fleet for processing into Dalek of human origin. During the Battle of the Game Station, the Anne Droid was repurposed to fight the invading Daleks, managing to take out three of them before it was destroyed. (TV: Bad Wolf/The Parting of the Ways)
The Daleks of the New Dalek Paradigm used their gunsticks to dinsintegrate their predecessors. (TV: Victory of the Daleks)
Community content is available under
CC-BY-SA
unless otherwise noted.