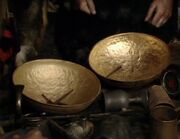 Democracy was a form of government in which all citizens had an equal say in the decisions that affected their lives.
A group of thieves on Chloris acted as a democracy, casting a vote to decide Romana II's fate. Despite a majority voting to kill her, she convinced them otherwise. Even though they were governed in this way, Torvin acted as the group's unofficial leader. (TV: The Creature from the Pit)
The Rulers of the Universe, who specialised in manipulating other planets, called democracy, the idea of self-determination one of the greatest con tricks ever. (AUDIO: I Went to a Marvellous Party)
Democracy ended in the United Kingdom in 2268. (AUDIO: Antidote to Oblivion)
Dalek democracy
Edit
Davros, the creator of the Daleks, viewed democracy with contempt, believing that "absolute power" was the only path to achievement. He called a vote of confidence in his leadership attended by all members of the Kaled Scientific Elite and Military Elite to weed out dissenting voices. Those who voted against him were murdered by the Daleks. (TV: Genesis of the Daleks) The Daleks themselves followed such examples. Every Skaro year, the Dalek Emperor and the second-in-command were re-elected without contest. In the 40th century, when the Commander of the Red Extra-Galactic Squadron made the unprecedented move of demanding new leadership, the Emperor had the entire squadron destroyed. (COMIC: The Secret of the Emperor)
Much later, Celia Dunthorpe proclaimed herself Prime Minister of the Daleks. (AUDIO: We Are The Daleks) The New Dalek Paradigm also established the Parliament of the Daleks. (TV: Asylum of the Daleks)
Community content is available under
CC-BY-SA
unless otherwise noted.