Jurassic World: Dominion Dominates Fandom Wikis - The Loop
Play Sound


Deimos was the fifth story in the fourth series of the Eighth Doctor Adventures, produced by Big Finish Productions. It was written by Jonathan Morris and featured Paul McGann as the Eighth Doctor and Niky Wardley as Tamsin Drew.
The story continued in The Resurrection of Mars.
Publisher's summary
[
]
Millions of years ago, the noble Ice Warriors fled to Deimos, moon of Mars, hoping to sit out the radioactive death throes of their home planet. When the TARDIS lands on Deimos, the Doctor discovers that the Warriors' ancient catacombs are now a popular stop for space tourists.
But the Martian dynasties are more than history, and the Warriors are far from extinct. It's not for nothing that "Deimos" is the ancient word for "dread"...
Plot
[
]
to be added
Cast
[
]
References
[
]
Deimos
[
]
Mars
[
]
Harold and Margaret are residents of one of the Martian colonies.
The Martian terraforming project was cancelled due to the advent of the Great Recession and technical difficulties surrounding the planned atmospheric ionisation technique.
Ice Warriors
[
]
The Doctor tells one of the Ice Warriors that there are more of his people in suspended animation on an asteroid in the Sol system and that they will awake in several hundred years and found a new homeworld.
The Doctor is familiar with the second dynasty.
Valex is in a museum.
Tamsin Drew
[
]
Tamsin worked at the London dungeon for one summer, during which she played one of the prostitutes who was murdered by Jack the Ripper.
Gallifreyan technology
[
]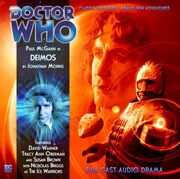 Notes
[
]
This is the second Big Finish Eighth Doctor story to be named after one of Mars' moons. AUDIO: Phobos is the first.
The CD cover of this audio drama features an actual photograph of Deimos.
There are two versions of the CD cover for this audio drama; the version posted on Big Finish's website omits Tamsin's face, and some of the cast listed on the cover are different (including the omission of Niky Wardley and the inclusion of Susan Brown).
The story was broadcast on BBC Radio 4 Extra on 11 January 2013.
The conclusion of this story reintroduces Lucie Miller to the narrative, though Sheridan Smith doesn't appear. Her involvement in the adventure is expanded in the next story, AUDIO: The Resurrection of Mars.
This audio was recorded on 19 and 20 August 2009 at The Moat Studios.
Continuity
[
]
Footnotes
[
]
External links
[
]