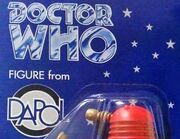 Dapol are a model railway maker that secured the licence from the BBC to produce and market a range of Doctor Who toys. The licence ran from 1988 until 2001, until the BBC declined to renew it in 2002.
Its range included action figures of the Doctor, companions and enemies, as well as various TARDIS models. The company often released obviously flawed figures, such as a five sided TARDIS console instead of the normal six, a green K9, a Fourth Doctor with no hat or scarf, and an undersized Second Doctor with no articulation.
Dapol's action figures were the subject of the parodic comic story Doctor Who? 153. In it, the Seventh Doctor commends how lifelike the Dapol Dalek and Cyberman figures are, telling Ace that he hears they are to be used in future episodes of Doctor Who. Ace then shocks him by presenting the Doctor with figures of them both, substantiating the rumour that they too, are going to be replaced.
They also held other licenses. One allowed them to release special edition glassware products. Another gave them permission to sell branded adhesive transfers. In 1995 Dapol obtained a further licence to operate the Llangollen Doctor Who Experience, a long-standing Doctor Who exhibition in Wales next to its factory.
Merchandise
Edit
Main article: Dapol action figures
External links
Edit
Community content is available under
CC-BY-SA
unless otherwise noted.