Jurassic World: Dominion Dominates Fandom Wikis - The Loop
Play Sound


Daleks Among Us was the one hundred and seventy-seventh release in Big Finish's monthly range. It was written by Alan Barnes and featured Sylvester McCoy as the Seventh Doctor, Tracey Childs as Elizabeth Klein, Christian Edwards as Will Arrowsmith and Terry Molloy as Davros.
Publisher's summary
[
]
AZIMUTH DEPARTMENT OF RE-EDUCATION
REMINDER: TO ALL CITIZENS
There are no Daleks on Azimuth. There have never been Daleks on Azimuth.
Twenty years ago, the Daleks did not invade Azimuth. There was no war. There were no death camps. A man named 'the Doctor' did not help liberate Azimuth.
There are no such things as Daleks. They do not exist. There are no Daleks among us.
UPDATE: TO ALL CITIZENS
A strange blue box has not appeared in Monument Plaza. Off-worlders named 'the Doctor', 'Elizabeth Klein' and 'Will Arrowsmith' are not at large in the city. For your own safety, should you not see any of the above, report at once to the Department of Re-education, Azimuth Central.
NEVER REMEMBER
Plot
[
]
Part one
[
]
to be added
Part two
[
]
to be added
Part three
[
]
to be added
Part four
[
]
to be added
Cast
[
]
References
[
]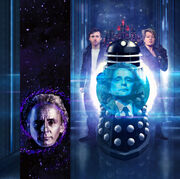 Notes
[
]
This is the first Big Finish audio drama in which the Seventh Doctor encounters Davros.
This story was recorded on 5 and 6 February 2013 at the Moat Studios.
Subscribers whose subscriptions included this story also received the audio short story Methuselah.
Continuity
[
]
External links
[
]
Main Range
Fifth Doctor
Adric, Nyssa, Tegan
Nyssa
Nyssa, Brewster
Nyssa, Hannah
Nyssa, Tegan
Nyssa, Tegan, Marc
Nyssa, Tegan, Turlough
Tegan, Turlough, Kamelion
Tegan, Leela
Turlough
Peri
Peri, Erimem
Amy
Solo travels
All stories in the main monthly range are included in this navigation box including the "subscriber exclusive" stories which are part of Big Finish Productions' subscription service for this range. All other stories are represented in other navigation boxes.