Wiki Targeted (Entertainment)
Play Sound

Dalek Empire was a series of linked audio dramas and one book in the Short Trips series, all published by Big Finish Productions.
The Dalek Empire range started with a progressive thread through four stories in the Main Range of Big Finish Doctor Who audio stories (The Genocide Machine, The Apocalypse Element, The Mutant Phase and The Time of the Daleks), then spun off into an independent audio mini-series.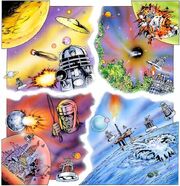 The first two mini-series, Dalek Empire and Dalek Empire II: Dalek War, told the story of struggle against the Daleks, following their invasion of Mutter's Spiral and subsequent conquest of the galaxy from the perspectives of three key characters: Alby Brook, Susan Mendes and Kalendorf.
Dalek Empire III continued 2,500 years after Dalek Empire II: Dalek War, as the galaxy prepared for a new invasion by the Daleks. Dalek Empire IV: The Fearless took a different approach and detailed other areas of the first war with the Daleks, with different characters.
In December 2006, Big Finish released Return of the Daleks, a special subscribers exclusive audio drama, which featured the Seventh Doctor with Susan Mendes and Kalendorf. It takes place between the events of The Human Factor and "Death to the Daleks!", the second and third releases in the first series of Dalek Empire. Also in December 2006, Big Finish released Short Trips: Dalek Empire, a short story anthology, featuring supplemental stories from various Dalek storylines, including the Doctor in several incarnations. Adapting Dalek Empire to the world of print, it also featured the full script to Return of the Daleks.
In November 2020, Big Finish released Dalek Empire: Series I - II and Dalek Empire: Series III - IV, collecting all stories from the series.
Stories
[
]
Dalek Empire
[
]
Dalek Empire II: Dalek War
[
]
Dalek Empire III
[
]
#
Title
Author
Director
Featuring
Released
3.1
The Exterminators
Nicholas Briggs
Nicholas Briggs
Frey, Kaymee, Culver, Susan
May 2004
3.2
The Healers
June 2004
3.3
The Survivors
Frey, Kaymee, Culver, Amur Tarkov, Susan
July 2004
3.4
The Demons
Amur, Frey, Culver, Susan
August 2004
3.5
The Warriors
Frey, Kaymee, Culver, Elaria, Susan
September 2004
3.6
The Future
Frey, Kaymee, Hardew, Culver, Elaria, Susan
October 2004
Dalek Empire IV: The Fearless
[
]
Other 'Dalek Empire' releases
[
]
External links
[
]