Doctor Strange in The Multiverse o Madness - The Loop
Play Sound

The Doctor Who Magazine Winter Special of 1993 was a celebration of the 30th anniversary of Doctor Who. It was bigger than other issues of Doctor Who Magazine at that time, and included a retrospective on the entire history of the programme.
Contents
[
]
Articles
[
]
These are the Seven Doctors
The Other Doctors
The Patrick Troughton Companions
The Jon Pertwee Companions
The Tom Baker Companions
The Peter Davison Companions
The Colin Baker and Sylvester McCoy Companions
The New Adventures — featuring synopses from Timewyrm: Genesys to Theatre of War
The Comics - an overview of the history of the Doctor Who comic stories from The Klepton Parasites to Uninvited Guest. Included the important subsection "Interweaving with the New Adventures", the official DWM explanation for how their comic stories fit into the Virgin New Adventures continuity.
Canonical? — featuring synopses of miscellaneous Doctor Who stories, such as the theatrical releases and stage productions
The Monsters — a gallery containing basic facts on Daleks, Cybermen, Ice Warriors, Sontarans, Sea Devils/Silurians and the Abominable Snowmen
The Villains — a gallery containing basic facts on the Master, the Rani, Borusa, Omega, the Monk, Black Guardian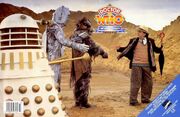 Comic content
[
]
Fiction
[
]
Archives
[
]
Full TV Episode Guide From An Unearthly Child to Survival
Featuring title, number of episodes, writer and brief story synopsis for each story.
Interviews / Profiles
[
]
Previews
[
]
Reviews
[
]
A4 Page Pin-ups
[
]
Also featuring
[
]
Listings of all BBC Video releases and a list of all Missing episodes (up to November 1993)
Credits
[
]
Additional details
[
]
This bumper special (priced £3.25 (UK)), was staple bound with a new, specially staged photograph.
The wrap-around cover photograph featured a Dalek, Cyberman, Tetrap and the Seventh Doctor in a quarry!
This title was a design tribute to the Radio Times Doctor Who 10th Anniversary Special 1973.
The cover marked Doctor Who's thirtieth Anniversary by heralding the official thirtieth anniversary logo on the cover (a logo used across all merchandising 1993-94).