The Doctor Who Magazine Tenth Anniversary Special celebrated the tenth anniversary of Doctor Who Magazine.
Contents
Edit
Articles
Edit
Comic content
Edit
Archives (Retold by episode with Fact File)
Edit
Interviews / Profiles
Edit
Previews
Edit
A4 pin-ups
Edit
Also featuring
Edit
Additional details
Edit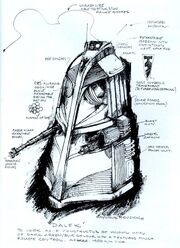 "The New Daleks" article about Raymond Cusick included a full page new design for the Daleks for the 1990s. These redesigned Dalek casings were only used in one story to date, the 1989 video game Dalek Attack.
This sixteenth Special from Marvel comics was a regular sized, perfect bound issue with a thicker cover and better quality paper, printed in October 1989. with a cover price of £2.50 (UK).
Community content is available under
CC-BY-SA
unless otherwise noted.