The Doctor Who Magazine Summer Special 1994 was published by Marvel Comics UK.
Contents
Edit
Articles
Edit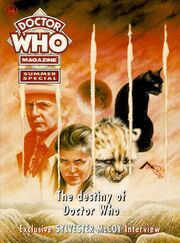 Comic content
Edit
Archives
Edit
(With Fact-File and Credits by Andrew Pixley)
Interviews / Profiles
Edit
Previews
Edit
A4 Page Pin-ups
Edit
Additional features
Edit
Additional details
Edit
Two magazines in one! The flip half of this Special focusing on the genesis of Doctor Who and its flip side looking at the end of an era with Sylvester McCoy's story TV: Survival.
The Seventh Doctor half of this issue has page numbers ended with 'B'.
This special (priced £2.95 (UK)) was staple bound, with cover illustrations by Alister Pearson
Community content is available under
CC-BY-SA
unless otherwise noted.