The 1992 Doctor Who Holiday Special special issue concentrated on Sarah Jane Smith, both solo and with K9 Mark III.
Contents
Edit
Articles
Edit
Not On TV - John Ainsworth presents a list of Sarah Jane Smith's appearances in comics, Doctor Who annual's and the K9 Annual.
Sarah's Scrapbook - Newspaper articles by Sarah Jane and others, from a Whoniverse perspective.
Comic content
Edit
Brief Encounter
Edit
Archives
Edit
With production notes and credits by Andrew Pixley
Interviews / Profiles
Edit
Previews
Edit
A4 Page Pin-ups
Edit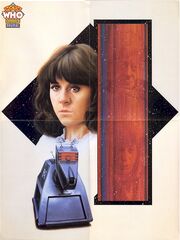 Giant A2 Colour Poster
Edit
The cover artwork for this issue by Piers McAllister was given away as a free poster stapled in the middle.
Also featuring
Edit
Thanks this issue to: Elisabeth Sladen, Claire Jones, Nicholas Courtney, CMS In-Vision, Bobbi Mitchell, David Howe, Mike Conroy, David Gibbes-Auger, Martin Wiggins and Neil Corry.
Other Information
Edit
"Holiday" in British comic publishing terms means "summer", as in the phrase "school holiday" or "summer holiday". Hence, this issue is often colloquially called the "1992 Summer Special".
This special was staple bound with new cover artwork (and poster), priced £2.50 (UK).
Community content is available under
CC-BY-SA
unless otherwise noted.