The 13th issue of the BBC's fortnightly Doctor Who Adventures was published in September 2006.
Contents
Free gift
Notebook plus mini stickers
Fact File (Photo feature and Essential Info)
Comic content
Tales from the TARDIS
Monster A-Z
The Doctor's Data (Collectable Fact File)
Adventure guide and behind the scenes feature
Posters
Additional features
Welcome (including latest news/ preview teaser)
The Vortex (Who News)
Find in this issue hidden somewhere Tommy Connolly to win a Doctor Who Shaker Maker !
Humour: 'Time Warped' Professor Lumic Slitheen creates the Cyber Slitheen (by Christopher Cooper)
Featuring readers letters, photos and readers art
How well do you know the Cybermen. (2 pages)
Cut out and make Krillitane mask
Puzzle Pages / Fun stuff
Competition Goodies: Cyber sets, Star Wars sets, Stormbreaker books and PS Garfield games
Competition: Win a life size K9 (Coupon collect for entries)
Bonus competition to win a page of Doctor Who goodies totalling £250 (UK).
Credits
Also featuring who's scarier Daleks or Cybermen?
Hidden Away / Facts
Mini-motto 6: "Day I know everything? Might as well stop."
This magazine can be recycled: "Oh, do some research."
Frau Clovis: "The Duke of Manhattan will not accept entries from multiforms with more than six heads."
Krillitanes can change shape the last time the Doctor saw them they looked like humans with very long necks.
The gas mask costumes for The Empty Child utilised baked bean tins for the gas filters.
Additional details
Published every two weeks on a Thursday, this issue had a cover price of £1.99 (UK).
This issue had a larger than magazine-size, detachable cover that opened up as an ultimate guide to Cybermen wall chart printed on thin card.
The subscription offer for this issue was a saving of over £6 (UK). No other incentive is offered.
This issue's free gift was selotaped to the cover.
Next issue's free gift is named as chunky Doctor Who pen and Doctor's sticky Notes!
Notes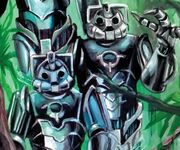 External links
[1] the official BBC magazine site with cover gallery and news of the latest available issue.
Community content is available under
CC-BY-SA
unless otherwise noted.