The Cyberman invasion of Earth, known by the Cyber-Planner as the Cyber-invasion, was an attempted invasion of Earth by the Cybermen in the late 20th century. (TV: The Invasion) It was the first invasion of Earth by the Cybermen recorded both in the history computer of the CyberFaction (PROSE: Iceberg) and in the Cyber-Documents of Earth, which were compiled into the CyberHive by the ArcHivist Hegelia.
According to the Hegelia, the invasion took place some time in the 1970s, (AUDIO: The Early Cybermen) possibly the year 1970. (PROSE: Killing Ground)
The invasion
Edit
to be added
Aftermath
Edit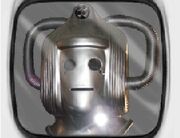 Bits and pieces of damaged Cybermen remained in the London sewers. One Cyberman managed to cannibalise garbage it found in the sewers to repair itself and create a considerable amount of Cybermats. The Third Doctor and Jo Grant stopped it from infecting an entire hospital with cybermites. (PROSE: The Piper) In 1975, two Cyberman heads were found in the sewers; one was sent to the Leamington Spa Lifeboat Museum (GAME: Security Bot) while the other head would eventually end up in Henry van Statten's Vault. (TV: Dalek)
UNIT kept at least two Cyberman heads from this invasion, one of which was stored at the Underbase. (TV: Death in Heaven, COMIC: The Age of Ice)
Some Cybermen survived the destruction of the invasion fleet. Many were propelled into deep space. One Cybership crashed in Antarctica, where it remained frozen and hidden for two decades. (PROSE: Iceberg) Another Cybership managed to escape back to Isos II. The Second Doctor, Jamie McCrimmon, and Zoe Heriot followed the ship and destroyed all traces of the Cybermen on Isos II. (AUDIO: The Isos Network)
Vaughn survived his apparent death by transmitting his mind into a robotic copy of himself created with cybertechnology. For many centuries, Vaughn continued to influence Earth while repairing his robotic body with parts salvaged from failed Cyberman attacks on humanity. (PROSE: Original Sin, AUDIO: Original Sin)
Community content is available under
CC-BY-SA
unless otherwise noted.