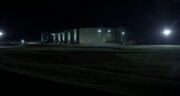 Cowbridge Overflow Camp was an overflow camp and former army barracks two miles outside the town of Cowbridge, south Wales. It was located just off the A48.
The barracks originally closed down in 1996. However, at the height of the Miracle in 2011, they were reopened as an overflow camp, set up to take in patients after hospitals to ran out of room.
Gwen Cooper got into the camp by pretending to be a nurse named Yvonne Pallister. Rhys Williams was already there as a truck driver. Gwen tried to take her father, Geraint Cooper, away from the camp. He suffered a heart attack as they made their escape. He was then reclassified as category one, (TV: The Categories of Life) but Gwen prevented him from being taken to the Module and he survived the burning. (TV: The Middle Men) After two months, Geraint was discovered and sent back to the facility, where he and other critically ill category ones later died after the Miracle ended. (TV: The Gathering, The Blood Line)
Community content is available under
CC-BY-SA
unless otherwise noted.