Spider-Man: No Way Home Trailer Dropped - The Loop
Play Sound

You may wish to consult Consequences for other, similarly-named pages.
Consequences was the fifteenth release in the BBC Torchwood Novels series. Unlike previous releases, this book took the form of short stories by five authors — the first time such a format was used for Torchwood.
Publisher's summary
[
]
Saving the planet, watching over the Rift, preparing the human race for the twenty-first century... Torchwood has been keeping Cardiff safe since the late 1800s. Small teams of heroes, working 24/7, encountering and containing the alien, the bizarre, and the inexplicable. But Torchwood do not always see the effects of their actions. What links the Rules and Regulations for replacing a Torchwood leader to the destruction of a shopping center? How does a witness to an alien's reprisals against Torchwood become caught up in a night of terror in a university library? And why should Gwen and Ianto's actions at a local publisher have a cost for Torchwood more than half-a-century earlier? For Torchwood, the past will always catch up with them. And sometimes the future will catch up with the past...
Stories
[
]
| Title | Author | Featuring |
| --- | --- | --- |
| The Baby Farmers | David Llewellyn | Emily, Gaskell, Alice, Jack |
| Kaleidoscope | Sarah Pinborough | Tosh, Gwen, Owen, Ianto |
| The Wrong Hands | Andrew Cartmel | Jack, Gwen, Ianto |
| Virus | James Moran | Jack, Gwen, Ianto, Kathy, Rhys, Nina |
| Consequences | Joseph Lidster | Jack, Gwen, Ianto, Nina |
Notes
[
]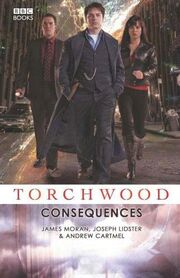 This book is also available as an ebook from the Amazon Kindle store.
The originally released cover art for the book only credited three authors: Moran, Lidster and Cartmel. Additional names were added to the cover when BBC Books made its official release announcement in July 2009. BBC Books also released a revised version of the cover art.
External links
[
]