This topic might have a better name.
Untitled (CRC comic story)
Talk about it here.


A Comic Relief Comic was published in 1991, and featured an assortment of creators and comic icons. There were several stories in the publication, which mostly went untitled.
The most notable to this wiki featured the appearance of every incarnation of the Doctor concurrent to the issue, and also served as a crossover with the British comic series Dan Dare.
Synopsis
Edit
to be added
to be added
Characters
Edit
References
Edit
to be added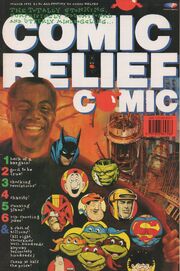 Story notes
Edit
This story was released in the Comic Relief comic special of 1991.
Community content is available under
CC-BY-SA
unless otherwise noted.