Doctor Who: Comic Creator was an Android and iOS app released in 2016. It was used to create and read comics. The user could also create their own monsters by mixing parts of other monsters. The content was divided into packs, with one free and six available through in-app purchases.
Synopsis
Edit
Ever imagined creating epic battles against the Daleks on Skaro, or sending the Doctor to foil the Cybermen on a futuristic space station? How about designing your very own species of alien Monster to unleash against the Doctor! Now there's no stopping you, with the awesome Doctor Who: Comic Creator!
Features
Edit
Comic Maker
Edit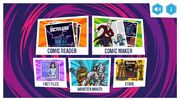 In this area, the user can create their own comic story, using Doctors, companions and villains. The user can choose the layout, background, characters, props, dialogue, and sound effects for the story, as well as create a cover.
Comic Reader
Edit
In this area of the game, the user can read their own stories or the game's original story, A Stitch in Time, which features a new villain, the Time Weaver.
Monster Maker
Edit
This area allows you to create new enemies by mixing parts of some available aliens for use in your own stories.
Fact Files
Edit
This area presents background information about the Doctors, companions, and monsters.
Available characters
Edit
Some of these characters are available once the game is downloaded. Others can be obtained by purchasing packs.
Companions
Edit
Villains
Edit
External links
Edit
Community content is available under
CC-BY-SA
unless otherwise noted.