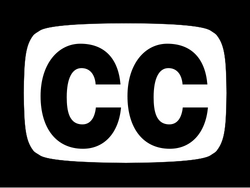 Closed captioning, often abbreviated CC, is text that appears, generally in the lower third of a television screen, which transcribes the auditory portion of programming. The captions are considered "closed" because they don't appear by default; the viewer has to take some positive action to "open" them and make them visible.
Traditionally, closed captioning was a service provided for and only used by the hearing impaired. However, as more sophisticated televisions made closed captioning easier to access, more people without hearing loss began to avail themselves of the option, especially to help with understanding unfamiliar accents. The closeness with which the closed captioning transcript hews to the soundtrack varies according to many factors.
It's unclear exactly how many Doctor Who universe episodes enjoyed closed captioning on initial transmission, although all have closed captioning in their DVD releases. Because closed captioning began only in 1972, however, it's safe to assume that the earliest possible series to have closed captioning was season 10. However, even this was unlikely because closed captioning in 1972 was limited to a single PBS station in the United States.
In the BBC Wales era, closed captioning of original transmissions is ubiquitous. Red Bee Media are the main supplier of closed captioning for both BBC-televised and iPlayer transmissions in the United Kingdom.
The Red Bee captioning of programmes does not get sold to other countries along with the base episode. Accordingly the closed captioning found on US iTunes versions of episodes is not identical to that which the British see on transmission. Indeed, there is not uniform captioning within the United States. According to one observer, closed captioning of Doctor Who on the Sci-Fi Channel was markedly inferior to that on PBS transmissions.[1]
Community content is available under
CC-BY-SA
unless otherwise noted.