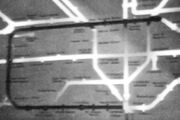 The Circle line was a line on the London Underground which encircled the very heart of London. (TV: The Web of Fear) It was coloured yellow on the London Underground map. Stations on the Circle line included Westminster, Charing Cross, Temple, Blackfriars, Mansion House, Cannon Street, Monument, Tower Hill, Aldgate, Liverpool Street, Moorgate, Aldersgate, Farringdon Square, King's Cross St. Pancras and Euston Square. (PROSE: "London Underground Map") Other stations on the Circle line included Embankment and Paddington station. (TV: The Web of Fear)
It was the major focus of the Great Intelligence's attack on the Underground. British Army Corporal Blake and Craftsman Stephen Weams monitored a map of the Underground with the Circle Line emphasised to show the spread of the Yeti's Web. That growing black line showed that King's Cross, Embankment, Paddington station and Euston Square were under apparent Yeti control. More stations followed until the entirety of the Circle line was filled with the Web. Once the Circle line was completely captured, any people inside the Circle — such as the Army soldiers, Professor Edward Travers and the Second Doctor's team temporarily stationed at Goodge Street — were trapped.
When Jamie McCrimmon read a map of the line on the Cannon Street platform, he discovered that three consecutive stations on the line were Cannon Street, Monument and Tower Hill. (TV: The Web of Fear)
At least one Circle line station also served the Metropolitan line, and this station was briefly harassed by a stegosaurus and a triceratops during Operation Golden Age. (TV: Invasion of the Dinosaurs)
Community content is available under
CC-BY-SA
unless otherwise noted.