Chat was a computer program that allowed for instant messaging and video calls. (TV: The Coach with the Dragon Tattoo)
The Coal Hill defenders often used the program to communicate with each other; (TV: The Coach with the Dragon Tattoo) Tanya Adeola and Ram Singh in particular, who used it to discuss homework. (TV: For Tonight We Might Die, The Coach with the Dragon Tattoo)
Tanya's contacts included Charlie Smith, April MacLean, Sophie and Ram. (TV: The Coach with the Dragon Tattoo)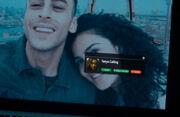 On their first Chat call, Ram had to pay Tanya into her gaming account, so she could help him figure out how to simplify the Gibbs probability density equation for a Klein-Gordon field that Miss Quill had assigned for homework. After the death of Ram's girlfriend Rachel Chapman at Autumn Prom, he did another call with Tanya, as neither wanted to be alone that night, (TV: For Tonight We Might Die) and the others in the group continually tried contacting him. Charlie mentioned socks, that he could drop off for him.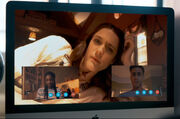 Unlike the others, Tanya never tried to get him to talk about what had happened, which confused him. She explained over a video call about the loss of her father. He told her about watching a skin-peeling dragon kill a woman right in front of him.
Later, she added Charlie and April to a call, who were then talking privately, so they could all discuss their experiences with the skin-peeling dragon. Charlie showed them an illustration he drew, and Ram instantly recognised it as the tattoo on Coach Dawson's body. (TV: The Coach with the Dragon Tattoo)
On the anniversary of Tanya's father's death, she didn't answer Ram's Chat calls, so he instead called April. She didn't fully understand Quill's homework either, but helped him anyway. While the two were on a call, the Lankin appeared at Ram's window in the form of Rachel Chapman. April slammed her laptop shut when she approached the webcam. (TV: Nightvisiting)
Behind the scenes
Edit
Chat is meant to be analogous to Skype, and in fact has similarly designed buttons during calls, but has distinctly different notification and call tones, and a substantially different interface. The name Chat is visible on Tanya's desktop.
Community content is available under
CC-BY-SA
unless otherwise noted.