Line 5:
Line 5:
 

Since then, Charles Beeson became a [[director]], working on television programmes such as ''[[EastEnders]]'', ''[[The Bill]]'', {{wi|Afterlife (TV series)|Afterlife}}, {{wi|Close to Home}}, and, more recently in the US, {{wi|Supernatural (TV series)|Supernatural}} and {{wi|The Mentalist}}. He has also served as [[executive producer]] to a number of series, including {{wi|Timeless (TV series)|Timeless}}, for which he has also directed. He is currently based in [[Los Angeles]].

 

Since then, Charles Beeson became a [[director]], working on television programmes such as ''[[EastEnders]]'', ''[[The Bill]]'', {{wi|Afterlife (TV series)|Afterlife}}, {{wi|Close to Home}}, and, more recently in the US, {{wi|Supernatural (TV series)|Supernatural}} and {{wi|The Mentalist}}. He has also served as [[executive producer]] to a number of series, including {{wi|Timeless (TV series)|Timeless}}, for which he has also directed. He is currently based in [[Los Angeles]].

 
 
−

== External link ==

+

== External ==

 

{{imdb name|id=0066596}}

 

{{imdb name|id=0066596}}

 
+

{{iwx|wiki=supernatural|wiki name=Supernatural Wiki}}

 
+

{{twitter|charlesbeeson}}

 

{{NameSort}}

 

{{NameSort}}

 

[[Category:Doctor Who floor assistants]]

 

[[Category:Doctor Who floor assistants]]
---
Revision as of 10:05, 26 November 2016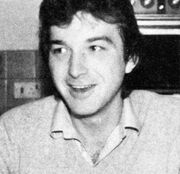 Charles Beeson began his television career as an uncredited floor assistant in the 1980s, on Doctor Who and other BBC programmes. He worked four days a week in the studio. In 1986, he was interviewed in DWM 111, at which point he had moved up to location manager in the BBC drama department.
Since then, Charles Beeson became a director, working on television programmes such as EastEnders, The Bill, Afterlife, Close to Home, and, more recently in the US, Supernatural and The Mentalist. He has also served as executive producer to a number of series, including Timeless, for which he has also directed. He is currently based in Los Angeles.
External links
Community content is available under
CC-BY-SA
unless otherwise noted.