Cathy Roberts was a young woman who was among the protesters at the Peterloo Massacre on 16 August 1819.
When she was young, Cathy's mother worked at Hurley Hall. Cathy would often accompany her mum and play with William Hurley in the grounds of the Hall. Cathy came to almost be a part of the Hurley family.
In 1818, Cathy left Cheadle Hulme to live with her cousin in southern England. While she was there she had a child, Peter Roberts, with "some young radical".
Cathy returned to Cheadle to support her father after her mother died of an illness. Back in her hometown, Cathy pretended that Peter was her brother. She became a servant at Hurley Hall.
Sometime before the end of 1818, Cathy was arrested by the Manchester yeomanry for distributing women's health pamphlets on Market Street. Mr Hurley spoke up for Cathy and had her be released from the gaol.
On 14 August 1819, Cathy was at Hurley Hall when the Fifth Doctor crashed his TARDIS in its grounds. She helped Mr Hurley greet the Doctor, Nyssa, and Tegan Jovanka.
The next day, Cathy took Nyssa to her father's house. Cathy insisted that Nyssa accompany her to the protest which would be held at St Peter's Field. Cathy also took Peter to the march. They slept in a tent in the Cheadle village green with many other protesters.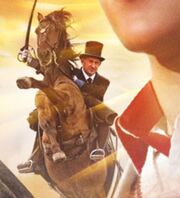 On 16 August, Cathy walked with the other protesters from the Cheadle village green to St Peter's Field, holding Peter all the way. Nyssa stayed with Cathy throughout the protest. Cathy was horrified when the Yeomanry began charging through the crowd of protesters on their horses. Mr Hurley's horse ran over Cathy, severely wounding her. She dropped Peter and he was killed by the hooves of the horses. Cathy was taken to an infirmary, where she was found by her father. Learning of the death of her child, Cathy told her father, "We have to go on fighting, for all the children." (AUDIO: The Peterloo Massacre)
Community content is available under
CC-BY-SA
unless otherwise noted.