The Catalogue of Life category houses big in-universe topics within the Time-Space Visualiser. Like its namesake, the Catalogue of Life keeps large topics together in one place.
Here, you'll find top-level categories which, for technical reasons, cannot be housed elsewhere in the category tree.
"We don't want things to change. We make sure
that they cannot."

Please do not place any of these categories within any category but the Catalogue of Life.

Likewise, the Catalogue of Life category itself should only ever be in Category:Time-Space Visualiser.
As of 2016, the Catalogue of Life includes: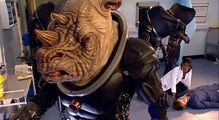 All items (24)
B
C
D
E
G
I
J
K
M
O
R
S
T
Z
Community content is available under
CC-BY-SA
unless otherwise noted.