Castle of Fear was the one hundred and twenty-seventh story in Big Finish's monthly range. It was written by Alan Barnes and featured Peter Davison as the Fifth Doctor and Sarah Sutton as Nyssa.
It was the first in a series of three linked audio stories centred around the village of Stockbridge. The village first appeared in Doctor Who Magazine's comic stories and made its Big Finish debut in Autumn. It was also the first Doctor Who audio story to feature the Rutan Host (although they had already appeared in the Bernice Summerfield audio series).
Publisher's summary
Edit
1199: Returning from the Crusades, Hubert, the new Earl of Mummerset, comes to take possession of Stockbridge Castle, his ancestral home. The only trouble is, in his absence, demons took possession of his Castle...
1899: The Stockbridge mummers' play takes a wholly unexpected turn, when the Dragon slays St George.
These events are not unconnected, the Doctor and Nyssa discover. There's an alien presence squatting in Stockbridge Castle, and it's their job to expose it. If Turkish knights, killer boars and a gang of rogue paladins don't stop them first...
to be added
References
Edit
Individuals
Edit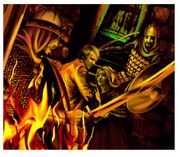 On the "CD Extras", several cast members described the story as having a "Monty Python-esque" feel.
CD 2 includes Episode 8 of The Three Companions: The Battle of World's End Junction.
Both the Doctor and Osbert refer to 1199 as being "the Year the Ant by the Lion was Slain." In actuality, it has been described as "the Year the Lion by the Ant was slain," referring to Richard the Lionheart's death at the hands of a young French boy named Pierre Basile, Bertran de Gudrun or John Sabroz.
This story marks the first appearance of the Rutans in a Doctor Who audio drama. However, they previously appeared in the Bernice Summerfield audio drama The Bellotron Incident.
This audio drama was recorded on 15 and 16 June 2009 at The Moat Studios.
Continuity
Edit
External links
Edit
Main Range
Fifth Doctor
Adric, Nyssa, Tegan
Nyssa, Tegan, Marc
Nyssa
Nyssa, Brewster
Nyssa, Hannah
Nyssa, Tegan
Nyssa, Tegan, Turlough
Tegan, Turlough, Kamelion
Tegan, Leela
Turlough
Peri
Peri, Erimem
Amy
Solo travels
All stories in the main monthly range are included in this navigation box including the "subscriber exclusive" stories which are part of Big Finish Productions' subscription service for this range. All other stories are represented in other navigation boxes.
Community content is available under
CC-BY-SA
unless otherwise noted.