This topic might have a better name.
This page should be renamed Camden. Most of the information on this page refers not just to Camden Town but to the wider borough of Camden.
Talk about it here.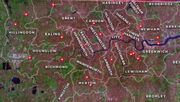 Camden shared it's north-eastern border with Haringey and it's eastern border with Islington. Its south-eastern border was shared with the City of London, its south-western border was shared with Westminster and its western border was shared with Brent. (TV: Revenge of the Slitheen)
In the 1890s, Mrs Vanguard appeared to live at No. 13 Ignatius Road in Camden, until she recovered her true self and claimed she lived in Deptford. (AUDIO: The Spirit Trap)
When Haresh Chandra got a job at the history department at a school in Camden, he left his home in Nottingham and moved to London. (PROSE: Day of the Clown)
In 2008, Coldfire Construction put up a new technology block in one of the schools in Camden. (TV: Revenge of the Slitheen)
An advertisement for Carols in Camden was posted on the side of Wilfred Mott's newspaper kiosk in London on Christmas Eve 2008. (TV: Voyage of the Damned)
In 2009, Clement McDonald was held in a police station in Camden after being arrested in the Hereford Arms. Gwen Cooper released him. (TV: Children of Earth: Day Three)
The Eighth Doctor visited Camden Market, and went to The World's End, a local pub. There, he was attacked by Cybermen. (COMIC: The Flood)
Behind the scenes
In the real wold, Camden is both a shortened name for Camden Town and the name of the whole Borough of Camden in which the town is located.
Actor Anthony Head was born in Camden Town.
Community content is available under
CC-BY-SA
unless otherwise noted.