House of the Dragon Trailer - The Loop
Play Sound
Call Me the Doctor was the episode of Doctor Who Confidential broadcast in conjunction with The Eleventh Hour.
Aspects of production covered
[
]
Matt Smith discusses how his Doctor acts.
Steven Moffat discusses how his intention was to start off this Doctor by testing him with a high-stakes story grounded in modern day Earth.
Additional topics covered
[
]
People interviewed
[
]
Matt Smith, The Doctor
Piers Wenger, Executive Producer
Steven Moffat, Head Writer
Dave Smith, Matt's Dad
Derek Fiddler, Matt's Grandad
Beth Willis, Executive Producer
Adam Smith, Director, Episode 1
Lynne Smith, Matt's Mum
Edward Thomas, Production Designer
Ciaran Thompson, Standby Art Director
Tracie Simpson, Producer
John Bennett, 1st Assistant Director
Karen Gillan, Amy Pond
Caitlin Blackwood, Amelia Pond
Arthur Darvill, Rory
Anthony Dickenson, Stop Frame Director
Danny Hargreaves, Special Effects Supervisor
Music list
[
]
"Take That" by Wiley & Chew Fu[1]
"I've Got You Under My Skin" by Frank Sinatra
"Mischief" by David O'Brien, Album: Cheese, Comedy, Quirky, Oompah ANW 1078
"Battle" by Gareth Johnson, Album: RnB, Hip Hop ANW 1170
"Whipsnake" by Blair Booth, Album: Comedy, Quirky, Silly ANW 1135
"Supersonic" by Igor Dvorkin, Deon Bayley & Adrian Francis, Album: RnB, Hip Hop ANW 1170
"Cutting The Deal 2" by Matt Hill, Album: Hip Hop, Garage, Rap ANW 1067
"Keep Pumping On My Stereo 2" by Gareth Johnson, Album: US Hip Hop ANW 1413
"The Link Up 3 (60)" by Gareth Johnson & Justin Johnson, Album: US Hip Hop, UK Grime ANW 1341
"Oh No!" by Marina & The Diamonds
"Country Girl" by Primal Scream
"Pencil Full of Lead" by Paolo Nutini
"Spybreak! (from 'The Matrix')" by Propellerheads
"Sonic Boom Boy" by Westworld
"Asteroid" by Nick Ingman & Terry Devine-King, Album: Blockbuster Movie Trailers ANW 1392
Crew
[
]
Elements retained in Cut Down

[

]
to be added
Home video releases
[
]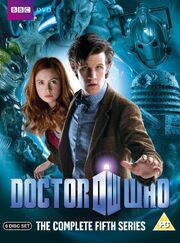 The "Cut Down" version of this episode was included on the Doctor Who: The Complete Fifth Series DVD & Blu-ray box set released on 8 November 2010.
Footnotes
[
]