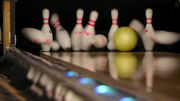 Bowling, sometimes referred to as ten-pin bowling, (PROSE: Wetworld, The Quantum Archangel) was a sport in which the participant or participants rolled a bowling ball across a lane to knock over bowling pins. It was generally played in a bowling alley.
Shortly after she appeared in the TARDIS, Donna Noble, sarcastically stated she had been playing ten pin bowling. She was actually just about to get married. (TV: The Runaway Bride)
Gwen Cooper went bowling with her boyfriend Rhys Williams shortly before her first day of work at Torchwood Three. She knocked over all ten pins on her second try, while Rhys only missed three. He was shocked at Gwen's skill. (TV: Day One)
The Eleventh Doctor claimed to be on Virginia Woolf's bowling team. (TV: The Time of Angels)
Community content is available under
CC-BY-SA
unless otherwise noted.