Between the Wars: A Slow Night in Paradise was a four page short story published in the graphic novel Abslom Daak - Dalek Killer in 1990 by Marvel Comics. It was created to fill a narrative gap between the comic stories and Star Tigers and Nemesis of the Daleks. John Freeman was credited as editor.
Abslom Daak sits at a bar during a lull in action before the assault on the Daleks on Hell. A homicidal maniac known as the Mechanic stalks the streets out for revenge on an enemy he knows is nearby.
to be added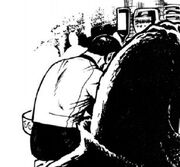 to be added
Community content is available under
CC-BY-SA
unless otherwise noted.