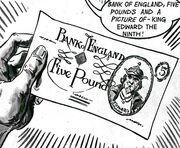 The Bank of England was a British financial institution.
An alien bank robber raided the vaults of the Bank of England in 1885. His attempt was thwarted by the Eleventh Doctor. (COMIC: Reality Cheque)
It was the largest bank in England in the 1970s. (COMIC: The Disintegrator)
A temporal maelstrom forced the Eleventh Doctor to land the TARDIS in the Bank of England on Earth in 2012. (GAME: The Eternity Clock)
Parallel universes
Edit
In the 1970s, the Third Doctor and Sarah Jane Smith discovered that they had been sent to a parallel universe because Bank of England five pound notes had a picture of Edward IX. (COMIC: Who's Who?)
Community content is available under
CC-BY-SA
unless otherwise noted.