Mr Badura was Alice Obiefune's landlord. He told her to vacate the flat by the beginning of August 2014 because he sold the house to be knocked out for luxury flats. (COMIC: After Life)
He had a key to Alice's flat and at least once let himself in without her permission. Following her complaint, he agreed not to do that again. (COMIC: The Eternal Dogfight)
Behind the scenes
Edit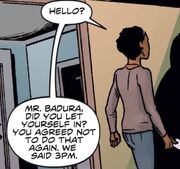 Despite the landlord appearing already in the first Titan Eleventh Doctor comic story After Life published in the 1st issue of the series, the name "Badura" was not given there. It was first mentioned by Alice Obiefune only in the comic story The Eternal Dogfight published in the 7th issue, where Badura does not appear.
Community content is available under
CC-BY-SA
unless otherwise noted.