Bad Blood was the episode of Doctor Who Confidential broadcast in conjunction with The Family of Blood.
A condensed 5 minute version of this episode was made available to download in .mp4 format for seven days after broadcast, as part of a BBC trial of video podcasts.[1] It was later uploaded to the BBC's YouTube channel. Both of these were cropped into 4:3 aspect ratio.
Aspects of production covered
[
edit
|
edit source
]
Filming of the Scarecrow attack, including small SFX explosives within the suits of the Scarecrows.
Paul Cornell discusses the responsibility that Martha has within this story, and the difficulties she faces as a black woman within that timeperiod.
David Tennant going in for the application of heavy facial makeup to make him look considerably aged.
Thomas Brodie-Sangster discusses Timothy, how he feels and the way in which he deals with the situation.
Filming at the memorial with old Timothy, and the battlefield scenes with Timothy and Hutchinson (including the SFX required for the latter).
Harry Lloyd discusses his surprise when told that a real explosion would be used for the destruction of the Family's ship.
The dark consequences for the Family of Blood at the climax.
Wire work for Mother of Mine being sucked out of the TARDIS.
The general health and safety considerations and concerns for both the SFX team and for the director when it comes to making a show like Doctor Who.
Why the Doctor can never have an ordinary life, and what the 'What could have been' montage means within that.
"I Still Remember" by Bloc Party, Album: A Weekend in the City[2]
"Take a Bow" by Muse, Album: Black Holes and Revelations
"Love Train" by Wolfmother, Album: Wolfmother
"Dani California" by Red Hot Chilli Peppers, Album: Stadium Arcadium
"Through The Dark" by K T Tunstall, Album: Eye to the Telescope
"Heartburn" by Alicia Keys, Album: The Diary of Alicia Keys
"The Man in You" by Faithless, Album: To All New Arrivals
"Porcelain" by Moby, Album: Play
"Once Upon a Time" by Air, Album: Pocket Symphony
"Everybody Looked the Same" by Groove Armada, Album: Vertigo
"Hung Up" by Madonna, Album: Confessions on a Dance Floor
Elements retained in Cut Down

[

edit

|

edit source

]
Interview with the make-up artist who applied the elderly John Smith's make up.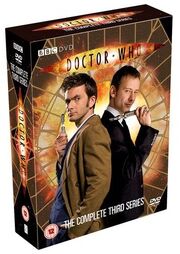 The "Cut Down" version of this episode was included on the Doctor Who: The Complete Third Series DVD box set released on 5 November 2007.
Community content is available under
CC-BY-SA
unless otherwise noted.