Jurassic World: Dominion Dominates Fandom Wikis - The Loop
Play Sound

BBV Productions is an independent British media production company headed by Bill Baggs, specialising in Doctor Who spin-offs of various kinds. Despite the similarity in name, it had no direct affiliation with the BBC or any of its subsidiaries, with the initials instead standing in for Bill & Ben Video, "Ben" having been the nickname of founder Bill Baggs' then-wife when the company was founded in 1991.[1]
Although not all of their productions had a legal link to the Doctor Who universe, they marketed almost exclusively to the Who fanbase and made use of actors knowing for their Doctor Who work, including Doctor actors Jon Pertwee, Peter Davison, Colin Baker, and Sylvester McCoy, companion actors Caroline John, Louise Jameson, Nicola Bryant, and Sophie Aldred, and others.
Several actors appearing in these productions early in their careers went on to achieve further notability, including Nicholas Briggs, Mark Gatiss, and Alan Cumming. A number of personnel behind-the-scenes and in front of the camera, including Briggs, Gatiss and Cumming, would go on to work on licenced Doctor Who spinoffs at Virgin Books, BBC Books, and Big Finish Productions, as well as the 2005 television revival of Doctor Who.
Despite its foundational role in the 21st century state of Doctor Who fiction, the legacy of BBV remained a mixed one due to alleged misbehaviour on behalf of Baggs while overseeing the production, principally not paying proper royalties to writers and actors. (REF: Downtime – The Lost Years of Doctor Who)
Format
BBV was originally a product of the "Wilderness Years" of Doctor Who, the period of time during which BBC-licensed live-action DWU content was few and far between, and predated the obtaining of the Doctor Who audio license by Big Finish Productions. As such, they fulfilled a niche in fandom as producers of "nearly Doctor Who" material. Originally, this took the form of Doctor Who pastiches, also referred to by Nicholas Briggs as "Who clones". These works, as exemplified by The Stranger, would use tropes and structures familiar to Doctor Who fans without actually using copyrighted elements like the Doctor or the TARDIS. These productions took the form of full-cast direct-to-video features or audio dramas, and would often revolve around an actor known to Who fandom for their appearance as a prominent TV character, cast in a subtly different part; thus, Colin Baker played the titular "Stranger", and, on audio in the Time Travellers series, Sylvester McCoy and Sophie Aldred resurrected their Seventh Doctor/Ace dynamic as "the Professor" or "the Dominie", and his companion Alice, often nicknamed Ace. These productions are generally not covered on this Wiki.
As time went on, BBV increasingly pivoted to putting out somewhat similar productions that now had a tangible legal link to the Doctor Who universe via individually-licensed elements that had debuted in previous Doctor Who media, including the TV series as well as the Virgin New Adventures and the Eighth Doctor Adventures novels. These included such productions as the live-action Auton Trilogy (focusing on the Autons and also featuring UNIT) and The Faction Paradox Protocols. Of special note among series was P.R.O.B.E., as, after production had commenced under the assumption that Caroline John would be playing a new character called "Abbot", the BBC finally gave word to BBV that they could allow the character to be referred to explicitly as Liz Shaw. The original P.R.O.B.E. films were overseen by Mark Gatiss and were also notable for featuring one Jon Pertwee's last performances, albeit not as his Doctor. With BBV retaining the copyright to the elements introduced around Liz, including the titular Preternatural Research Bureau, the P.R.O.B.E. series continued into the 21st century with a shifting cast, branching out into further media and making occasional use of other licensed DWU elements.
In addition to these two broad trends in fiction, BBV also created a number of documentaries and interviews relating to the production of TV Doctor Who, such as The Doctors: 30 Years of Time Travel and Beyond. There were also occasional attempts by BBV to branch out into new productions not connected aesthetically or narratively to the DWU, such as the audio drama The Pattern and the direct-to-video romantic comedy Sunrise: Love Again.
After its revival in 2021, BBV branched out into the prose medium with the Novelisations in Time & Space, paperback novelisations of some of their own past productions. Notably, this range included novelisations of several Audio Adventures in Time & Space formerly of the "unlicensed pastiche" type, incorporating background use of licensed DWU elements to formally establish the narratives' place in the Doctor Who universe.
History
Early 1990s: Home video beginnings
BBV's first production was the 1992 video release Summoned by Shadows, which was co-produced by the BBC Film Club and starred Colin Baker playing an unnamed character only known as the Stranger and Nicola Bryant as Miss Brown. Although these characters were evidently reminiscent of the pair of the Sixth Doctor and Peri Brown, Bryant did not use her American accent for the Stranger Miss Brown, setting her performance apart from Peri, and later installments of the series gave the Strange and Miss Brown a notably different backstory from "a Time Lord and his companion". Overall, the Stranger's adventures were chronicled on six videos and an audio adventure, many of which featured former Who cast members. The sixth video, Eye of the Beholder, was later re-released as the audio story Eye of the Storm.
BBV's next release was the ecologically-themed thriller The Airzone Solution, which was about a near-future conspiracy. The video was released in 1993, coinciding with the 30th anniversary of Doctor Who and featured four actors previously cast as the Doctor.
In 1994, BBV released the first video in the P.R.O.B.E. series, The Zero Imperative, which saw a departure for BBV as Liz Shaw was the only character from the Who universe to appear (although numerous Who actors made appearances as different characters). This proved problematic for the series, as Liz Shaw seemed very much changed following her leaving from UNIT; this was due to BBV only acquiring the rights to use the character and had no rights to the Doctor, meaning that the series could make no explicit reference to any other aspect of Who – including the stories where Liz was present.
BBV's next series of spin-off videos focused on UNIT and their battles with the Autons. The first video of the series, Auton, was originally to feature Nicholas Courtney as Brigadier Lethbridge-Stewart, however he had to withdraw due to ill health. The Brigadier was replaced by the original character of Lockwood, an enigmatic UNIT agent played by Michael Wade.
1998-2000: Doctor Who pastiches on audio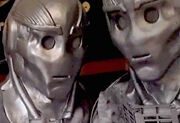 After the success of the Auton Trilogy, BBV attempted to secure the rights to the Cybermen and began production on Cyberwar, a film which would prospectively feature Cybermen hunting characters on a remote island. Some drafts of the story also featured the Ice Warriors. Although the film had already been announced, negotiations for the rights to the Cybermen ultimately fell through. While continuing to develop video material, Baggs set Nigel Fairs to the task of developing a line of audio dramas under the BBV brand, taking the team back to their Audio Visuals roots. The first season of BBV's all-purpose audio range, the Audio Adventures in Time & Space, was mostly given over to The Time Travellers, a series of Doctor Who pastiches starring Sylvester McCoy and Sophie Aldred — who had yet to reprise their actual DWU roles as the Seventh Doctor and Ace with Big Finish Productions.
However, Cyber-Hunt, the seventh and final release in the season, broke the mold. Advertised as the start of a new series entitled The Wanderer, it salvaged story elements from the cancelled Cyberwar project and starred Nicholas Briggs as the amnesiac traveller Fred (who was never referred to as "the Wanderer" in-story). Briggs had previously played the Doctor for unlicenced fan audios made by Audio Visuals; the Wanderer stories were a deliberate continuation of that series in all but name, with Fred being written as an amnesiac version of the Audio Visuals Doctor, with the BBC-copyrighted elements of the "Doctor" character stripped away via the amnesia plot device.[2]
Bill was worried about getting sued by the BBC, so he wanted to further distance his 'Who Clone' products by casting someone who hadn't been the Doctor (officially)... Me! I was very reluctant, but Bill was relentless and persuasive. [...] He told me to write Doctor Who, but find some clever way of making it lawyer-proof!Nicholas Briggs[2]
The story also featured the debut of the Cyberons, a species of somewhat Cyberman-like extraterrestrials. Fred reappeared in a second Wanderer adventure (Vital Signs) in the 1999 second season of the Audio Adventures in Time & Space, which had begun with two releases continuing the Stranger series in audio form. However, Nicholas Briggs had distancing himself from BBV to help create his own DWU spin-off production company, Big Finish Productions, who launched with an audio spin-off based on the licensed character of Bernice Summerfield. In 1999, Big Finish obtained the much-coveted BBC license to produce official Doctor Who-branded audio dramas. Season 2 of the Audio Adventures featured a few further Time Travellers stories with McCoy and Aldred, but, in light of the official use of the audio license to the "real" versions of their characters, their BBV counterparts were further distanced away from the BBC versions, with McCoy's character becoming "the Dominie" and Aldred's now being referred to as "Alice" instead of "Ace".
2000s: An increased focus on spin-offs
With Doctor Who pastiches losing their appeal in light of the release of "proper" Doctor-focused stories at Big Finish, BBV began refocusing their audio output on licensed spin-offs similar to Auton and P.R.O.B.E.. The first was the Adventures in a Pocket Universe series, which featured the return of K9 (fully licenced from his creators Bob Baker and Dave Martin). Lalla Ward co-starred as K9's ever-unnamed "Mistress", with the implications that she was in fact reprising Romana II and that the stories slotted in after Warriors' Gate for both characters. The back half of Season 2 of the Audio Adventures then saw the rapid-fire inceptions of multiple spin-offs based on iconic Doctor Who aliens: Zygon, Krynoid and Sontarans.
It was then the Cyberons' turn to be spun off into their own series, with 2000' Season 3, which opened on Cybergeddon, an original Cyberon audio drama. The Cyberon species then reappeared in Cyberon, a home video feature film, which reintroduced Jo Castleton (who had played Natasha Alexander in the Auton Trilogy) in a new part, psychiatrist Lauren Anderson. Although Cyberon had no official ties to the DWU upon release, it was intended to take place in the DWU's continuity, as evidenced by the Cyberons and Lauren Anderson's subsequent appearances in other BBV productions alongside "real" DWU characters. The subsequent entries in Season 3 continued the ongoing Sontarans series and launched short-lived spin-offs for The Rani, Wirrn and even The I, never seen on television but introduced in the Eighth Doctor novel Seeing I.
It also featured a final The Time Travellers audio, starring Sylvester McCoy alone; entitled Punchline, it is notable as an early DWU-related work of Rob Shearman, who would go on to create celebrated Big Finish Doctor Who works such as The Holy Terror and The Chimes of Midnight, as well as the 2005 Ninth Doctor TV episode Dalek. The season was rounded off by Infidel's Comet, a story set in the DWU but principally focusing on original characters and concepts, though it featured cameos by a Sontaran, a Zygon and a Nestene, as well as The Pattern, an attempt at an entirely standalone sci-fi audio drama.
In 2001, following the success of the BBC's own comedy take on the DWU in The Curse of Fatal Death BBV released their own spoof featurette, Do You Have a Licence to Save this Planet?. It was a Doctor Who parody primarily poking fun at BBV's own practices, with a turning point in the plot involving Cyberons who wished to regain "handlebars" and thereby become true Cybermen so that they could sell merchandise of themselves. The story prominently featured licensed appearances by Autons and Cybermen as well as a cartoon prologue featuring Rassilon. Sylvester McCoy starred as a parody of the Seventh Doctor named "the Chiropodist", who was a Chrono-Duke instead of a Time Lord and travelled in a flying washing machine.
Season 4 of the Audio Adventures in Time & Space was released over a longer periods of time than its predecessors, spanning 2001 through 2004. It opened on the launch of The Faction Paradox Protocols, the vanguard of of Lawrence Miles' wider Faction Paradox franchise, newly spun-off from the Eighth Doctor Adventures. The season continued the Zygon and Krynoid series, featured a single release in the new Rutans series, and also included The Quality of Mercy, not branded as part of a specific series but which featured the Virgin New Adventures character of Guy de Carnac. There were plans for a spin-off based on Sabalom Glitz, but it and several other projects fell through when BBV announced in September 2003 that they would be no longer producing audio stories, with the exception of Faction Paradox and instead would focus on video releases. By December 2005, past audio releases were being deleted from their online catalogue,[3] although they would later be made available once more in 2021.
Thereafter, BBV ventured into non-fiction, producing documentaries such as The Doctors: 30 Years of Time Travel and Beyond and Bidding Adieu: A Video Diary. In 2003, much production was done on a new direct-to-video DWU film, Zygon: When Being You Just Isn't Enough, which featured Zygons as both protagonists and antagonists, as well as Lauren Anderson, who had previously appeared in Cyberon. However, it was only after additional shooting years later that the film completed and released,[4] coming out in 2008. In an attempt to appeal to a post-Torchwood market, the final cut of Zygon featured adult elements, including uncensored nudity and even sex scenes. Upset at this, Baggs's marketing, and the way in which he had in other ways messed with their scripts, the several scriptwriters who had worked on the story, including Lance Parkin and Jonathan Blum, declined to have their names appear on the finished product. (REF: Downtime – The Lost Years of Doctor Who)
The 2010s hiatus
The original BBV Productions website, BBVOnline.co.uk, became inaccessible in late 2009. In January 2011, BBV's registration of the domain had expired leaving it to be taken up by a new registrant for an unrelated site. Though this left BBV with no official online presence, in 2012 a number of BBV releases were reissued on DVD through retail channels; the P.R.O.B.E. series was rereleased in March 2012, followed by Do You Have a License to Save This Planet?, Cyberon and Bidding Adieu in August of that year.
Bill Baggs ultimately returned to DWU work with a new P.R.O.B.E. film, When to Die, in memory of Caroline John, featuring Hazel Burrows taking over the role of Liz Shaw. It was released on 15 April 2015. [5] In 2018, BBV released Sunrise: Love Again, an independent feature film directed by Bill Baggs and cowritten between Baggs and Kristina Wilde. It featured significant shared cast with When to Die, but otherwise had no stylistic, let alone narrative, relationship to the DWU.[6]
2021-2022: Renaissance
In late 2020 and continuing into 2021, BBV Productions started uploading interviews of various vintages with Doctor Who cast and crew to their YouTube channel, as well as making Sunrise: Love Again available for free as a form of promotion on the same channel. They also revived the P.R.O.B.E. series with a series of webcasts, "Case Files" starring a returning Bill Baggs as Giles. These webcasts occasionally featured licensed appearances by, or references to, other DWU elements than P.R.O.B.E., including the Shed Scales from Faction Paradox.
This preceded the revival of the BBV website at new domain BBVProductions.co.uk in the first half of 2021, which made all of the company's back catalogue (both DWU and otherwise) available as paid downloads as well as permitting the order or preorder of home media releases. A new season of Audio Adventures in Time & Space was begun, including original P.R.O.B.E. stories featuring the "new team", as well as the reissuing of the hitherto-unrelated-to-BBV audio series The Minister of Chance as part of the label. Through partnerships with Thebes Publishing and Arcbeatle Press, Erimem, Cyberon and Cwej: The Series ebooks were also sold through the BBV website, even as they remained available through their primary publishers.
In June, BBV announced that they had reacquired the Faction Paradox audio and video license, releasing new standalone Faction Paradox audio stories, scriptbooks of The Faction Paradox Protocols, and ebook and audiobook versions of Lance Parkin's rejected The Book of the War entry Mr Saldaamir. Notably, some of BBV's early decisions were met with backlash from Faction Paradox's own creator, Lawrence Miles.[7] Around the same time, an agreement was made with Hannah Hatt of the Haisman estate for the license to the Brigadier. BBV launched a series of audiobooks, The Brigadier Adventures, which also tied in with the P.R.O.B.E. series.[8]
In September,[9] BBV launched a line of print and ebook Novelisations in Time & Space, adapting some of their Audio Adventures in Time & Space in prose form. The initial slate included Republica as well as two further Cyberon stories, Cyber-Hunt and Cybergeddon. In all cases, licensed elements from the Doctor Who universe were added to the original "pastiche" narrative, as had been done more prominently in Arcbeatle's earlier licensed Cyberon anthology.
In October 2021, however, public outcry erupted over BBV's hiring and defense of an accused child predator on a Sherlock Holmes audio project.[10] At the same time, further allegations emerged regarding Baggs's lack of support, financial or otherwise, for writers and production crew.[11] Many creatives ended their association with the company, in the process cancelling a large number of BBV's future projects, including Doctor Omega audios, a book series centred on the Rani, and further Cyberon and Faction Paradox releases.[12] Former contributors to BBV's Faction Paradox range have stated that Baggs "no longer has his hands on" Faction Paradox by March 2022.[13][12]
BBV continued releasing new material in the P.R.O.B.E. range. After collecting most of the existing Case Files into P.R.O.B.E. Case Files - Volume 1, they released a Volume 2 in February 2022. The same year also saw the debut of a new P.R.O.B.E. audiobook subseries, New Companions, launching with Maxie, written and read by Bill Baggs himself.
Andy Frankham-Allen eventually confirmed that BBV had lost the license to use Alistair Gordon Lethbridge-Stewart "months" prior to May 2022, theoretically putting an end to the Brigadier Adventures audiobook range after five releases. Nevertheless, a sixth release, John Peel's Translation, was put out in early May, soon being decried by Frankham-Allen as illegal.[14]
Releases
Video
Title
Year of release
Series
Licensed DWU elements
Covered here?
Summoned by Shadows
1991
The Stranger
N/A
No[vid 1]
More than a Messiah
1992
In Memory Alone
1993
The Airzone Solution
N/A
The Terror Game
1994
The Stranger
The Zero Imperative
P.R.O.B.E.
Liz
Yes

Stranger than Fiction

Documentary
N/A
Breach of the Peace
The Stranger
No
The Devil of Winterborne
1995
P.R.O.B.E.
Liz, P.R.O.B.E.
Yes

Stanger than Fiction 2: From Script to Screen

Documentary
N/A
Eye of the Beholder
The Stranger
No
Unnatural Selection
1996
P.R.O.B.E.
Liz, P.R.O.B.E.
Yes
Bidding Adieu: A Video Diary
Documentary
N/A
Ghosts of Winterborne
P.R.O.B.E.
Liz, P.R.O.B.E., Winterborne School
Auton
1997
Auton Trilogy
Autons, UNIT
Yes

Stranger Than Fiction 3: Acting Up

1998
Documentary
N/A
Auton 2: Sentinel
Auton Trilogy
Autons, UNIT, Lockwood, Sally & Winslet
Auton 3: Awakening
1999
Cyberon
2000
Cyberon
N/A
No
Do You Have a Licence to Save this Planet?
2001
N/A
Sontarans, Autons, Krynoids, Rassilon
See footnote[vid 2]
The Doctors: 30 Years of Time Travel and Beyond
2002
Documentary
N/A
Yes
Zygon: When Being You Just Isn't Enough
2008
Zygon
Zygons
When to Die
2015
P.R.O.B.E.
Liz, P.R.O.B.E., Patsy,
Sunrise: Love Again
2018
N/A
No

JNT: Uncut!

2021
Documentary
N/A
Yes

Jon Pertwee: Uncut!

P.R.O.B.E. Case Files - Volume 1
P.R.O.B.E.
P.R.O.B.E., Liz, Giles, Doctor X, Elizabeth Holub

Philip Hinchcliffe: Uncut!

Documentary
N/A
P.R.O.B.E. Case Files - Volume 2
2022
P.R.O.B.E.
P.R.O.B.E., Giles, Faction Paradox, Felix Mather
↑ Because of the fact that BBV released both unlicensed and semi-licensed works, our community had to examine each release on a case-by-case basis. Basically the rule of thumb for fictional video releases is this: did BBV obtain a license from either the BBC or a writer who owned rights to a preexisting DWU element in order to make the video? If they did, then we assert that the video is a valid DWU narrative, and we therefore cover it. On the other hand, if BBV simply made up new characters and cast them with Doctor Who actors, then the video is not legally a part of the DWU, whatever the intent behind it, and we don't cover it.
↑ As this story is a lawful parody of Doctor Who, featuring licensed use of the Sontarans, Autons and Krynoids, it warrants some coverage on this Wiki. However, due to its parodical nature, it is not considered part of the DWU as we define it. Thus, it, and all related pages, must be marked invalid.
Webcasts
A full list of the P.R.O.B.E. Case Files originally released as webcasts is available here.
Audio
Main article: Audio Adventures in Time and Space
Books and Ebooks
Unproduced stories
Home video
P.R.O.B.E.
Zygon
Other
Audio
P.R.O.B.E.
Zygon
Precis

by Iain McLaughlin
Adventures in a Pocket Universe
The I
Other
Doctor Omega audio series by Cole Hrusovsky

Doctor Omega and the Monsters from Earth's Core
Doctor Omega and the Moon Men
Prose
Cyberon
External links
Footnotes