Obi-Wan Finale - The Loop
Play Sound


Arrangements for War was the fifty-seventh story in Big Finish's monthly range. It was written by Paul Sutton and featured Colin Baker as the Sixth Doctor, Maggie Stables as Evelyn Smythe and introduced Gabriel Woolf as Rossiter.
Taking place immediately after the first half of Project: Lazarus, Arrangements for War builds the world of Világ and also allows a great reflection and building of Evelyn's character. The Doctor returns to Világ once more in Thicker Than Water.
Publisher's summary
[
]
Onboard the TARDIS, nerves are strained.
After escaping the Forge and the murderous clutches of Nimrod, the Doctor and Evelyn have things to talk about. The Doctor's attitude towards death is a subject that these days is too close to Evelyn's heart, and eventually she demands to be set down somewhere where she can be free of him for a while.
And so they come to Világ, where the Doctor's meddling lands him in the middle of a truly dangerous liaison and Evelyn meets a man who wants to change the course of her life forever.
Love is everywhere. But then war is too.
Is it time for Evelyn to leave the Doctor? Or is the choice about to be taken out of her hands?
And who is to say what is the beginning and what is the end of love?
Plot
[
]
to be added
Cast
[
]
References
[
]
to be added
Notes
[
]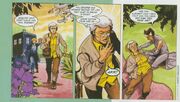 Continuity
[
]
External links
[
]
Main Range
Fifth Doctor
Adric, Nyssa, Tegan
Nyssa
Nyssa, Brewster
Nyssa, Hannah
Nyssa, Tegan
Nyssa, Tegan, Marc
Nyssa, Tegan, Turlough
Tegan, Turlough, Kamelion
Tegan, Leela
Turlough
Peri
Peri, Erimem
Amy
Solo travels
All stories in the main monthly range are included in this navigation box including the "subscriber exclusive" stories which are part of Big Finish Productions' subscription service for this range. All other stories are represented in other navigation boxes.