Anne Josephine Robinson (born in Crosby, Merseyside, England, 28 September 1944) provided the voice of Anne Droid (a parody of Robinson's TV persona) in Bad Wolf and The Parting of the Ways.
She was played by Jan Ravens in Dead Ringers meets Doctor Who.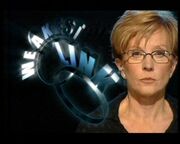 Robinson is most famous for hosting the BBC game show The Weakest Link. She also hosted the United States primetime version of the show.
Robinson is of Irish Catholic descent, and attended a Roman Catholic Girls School in Merseyside. Her mother, also named Anne Josephine Robinson, was a successful agricultural businesswoman from Ireland.
Robinson's icy persona and monotone voice became infamous on The Weakest Link. Her repeated icy utterance, "You are the weakest link—g'bye!" became a catchphrase soon after the show started in 2000. An American version of the series was soon commissioned and Robinson ended up hosting both the UK and US versions of the series, although in the latter nation her hosting persona did not appeal to audiences and the series was removed from national network TV and moved into syndication, with a different host.
She began her career as a journalist, and at one time worked for the late, controversial magnate, Robert Maxwell (whom she greatly admired) on the staff of the Daily Mirror. She began appearing on BBC television during the 1980s, on programmes such as Points of View and Watchdog. She also presented a weekly show on BBC Radio 2 on Saturday mornings, which ran from 1988 to 1993. She returned to the station briefly in 1996, sitting in for Jimmy Young on the Lunchtime slot for 2 weeks.
She caused a furore when she appeared on the comedy show Room 101 on 5 March 2001, and made derisive comments about Welsh people. The persona she adopts for the purposes of The Weakest Link is her own invention. Currently, she also hosts the BBC's outtakes programme Outtake TV and the BBC's interactive quiz Test the Nation.
In 2001, Robinson published her autobiography, Memoirs of an Unfit Mother, in which she describes her former drinking problem.
On 23 April 2006, The Sunday Times Rich List named Anne Robinson as one of the UK richest media personalities, worth £60 million (USD 112 million).
External links
Edit
Community content is available under
CC-BY-SA
unless otherwise noted.