Andrew Cartmel was the script editor for the classic series of Doctor Who during its last three seasons. Raised in Canada, he took a post-graduate course in Computer Studies and worked on computer-aided design for Shape Data Ltd (now UGS Corp) in Cambridge, England during the mid-1980s, before he turned to writing and gained an agent on the strength of two unproduced scripts. He also attended workshops run by the BBC Television Drama Script Unit.
Biography
Edit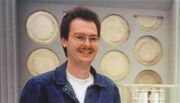 In 1987, Cartmel was hired as the script editor for the twenty-fourth season of Doctor Who. He was recommended to the producer John Nathan-Turner by the producer's agent, who had seen some unproduced scripts Cartmel had written. Cartmel worked on the programme for the next two years, overseeing the final three seasons of its original run on BBC One. He brought in new writers and took the series in a new creative direction. Although he is not credited with writing any of the serials under his watch himself, he is credited with composing the key monologue delivered by Sylvester McCoy at the end of Survival episode 3 — the final episode of the original 1963-89 series.
The most lasting legacy of this new direction was the "Cartmel Masterplan", a backstory developed with other writers that restored some of the mystery of the Doctor's background and eventually would explain exactly who he was. Unfortunately, although hints were dropped in the last two seasons, the proposed revelations never materialised on screen because the programme was taken off the airwaves in 1989.
Even if Doctor Who had not come to an end in 1989, Cartmel would have left the show; he had already been head-hunted due to his success there to take over the script editor's role on the BBC's hugely popular medical drama series Casualty.
After one season working on Casualty in 1990, Cartmel left the television industry for the rest of the decade. In the 1990s he wrote comic strips for Judge Dredd Megazine and Doctor Who Magazine and three Doctor Who novels for Virgin Publishing in their New Adventures series. This series used elements of the "masterplan" as part of their overall arc for the Doctor, particularly the last Seventh Doctor novel, Lungbarrow, written by Marc Platt.
In 1999 his first original novel, The Wise, was published by Virgin's short-lived series of new science-fiction novels, Virgin Worlds. The same year, he became editor of the science-fiction magazine Starburst. His tenure was a short one and he left the magazine in 2000. In 2001 he returned to television as the script editor on the second season of Channel 5's fantasy / adventure series Dark Knight, writing what proved to be the series' final episode. He also wrote a stage thriller with Gothic overtones, End of the Night, which was successfully staged by Long Shadow Productions in the summer of 2003.
In the 2000s he has also returned to Doctor Who fiction, writing the script Winter for the Adept for Big Finish Productions' range of Doctor Who audio dramas in 2000, a novella, Foreign Devils, for Telos Publishing in 2003, and the BBC Books novel Atom Bomb Blues in 2005.
Cartmel had several other books published in 2005. Script Doctor - The Inside Story of Doctor Who 1986-89 is an account of his work on the Doctor Who television series. There was also another Doctor Who non-fiction book, Through Time: An Unofficial and Unauthorised History of Doctor Who, and he contributed to the charity reference book Behind the Sofa: Celebrity Memories of Doctor Who.
In 2014, he began writing comic strip stories for Doctor Who Adventures magazine, starting with stories for the Eleventh Doctor and later transitioning into Twelfth Doctor stories.
He was credited for his "invaluable assistance and generosity" in It's Even Bigger on the Inside, first published 2015, alongside many others.
In 2016, Cartmel wrote a run of DWA comics beginning with From the Horse's Mouth that gave the Twelfth Doctor a horse-like companion named Jata. Six Cartmel-written Jata comics were published; due to Doctor Who Adventures being "paused" the Jata storyline did not receive any closure.
He lives in London and is currently lecturing at Saint Mary's College, Surrey.
Bibliography
Edit
DWM comic stories Edit
Doctor Who Magazine/Doctor Who Classic Comics Edit
Doctor Who: The Seventh Doctor
Edit
Doctor Who Adventures
Edit
Virgin New Adventures
Edit
BBC Past Doctor Adventures
Edit
Novellas
Edit
Telos novellas
Edit
Short stories
Edit
DWM short stories
Edit
Short Trips
Edit
BBC Torchwood novels Edit
Big Finish Bernice Summerfield anthologies
Edit
The Scientific Secrets of Doctor Who
Edit
Big Finish Doctor Who audio stories Edit
The Lost Stories
Edit
Short Trips
Edit
Bernice Summerfield
Edit
Television
Edit
Torchwood Edit
External links
Edit
Community content is available under
CC-BY-SA
unless otherwise noted.