You may wish to consult Alice for other, similarly-named pages.
Alice Bultitude was a spinster. In Ostend in 1913, she asked the Sixth Doctor for some help, she stayed in the room next him and Peri Brown in the hotel. She often went to the cinemas. She knew all the gossip of the country. She wanted to meet Toby, and often sent him letters. She had a potency for taxidermy. She accompanied them when Alphonse Chardalot kidnapped him. (AUDIO: Year of the Pig)
Behind the scenes
[
]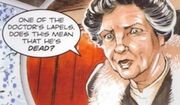 Alice was depicted in the comic preview of Year of the Pig in DWM 377.