Wiki Targeted (Entertainment)
Play Sound


After Effects was the episode of Doctor Who Confidential broadcast in conjunction with The Hungry Earth.
The title is a reference to the software application Adobe After Effects.
Aspects of production covered
[
]
Location filming for the episode.
Blocking the early scene of ground disturbance so that the VFX team can add the holes appropriately and properly in post-production.
How an initial additional lizard creature was cut to help build anticipation for the Silurians and save budget.
The reinvention of the Silurians, to make them more human-like and more relevant in a modern-day script.
Finding a location that would accommodate the need for actors to be pulled down into the floor.
How the SFX team created a rig to allow for the actors to safely sink into the holes in the floor.
The process of director and the editor working towards the final edit.
The need to cut a notable amount of material from the episode, with attention paid to one particularly long early scene.
The Mill's work on adding VFX to various scenes in the episode.
Additional topics covered
[
]
Discussion of Doctor Who and The Silurians, particularly about building tension.
How Arthur Darvill didn't initially recognise the Silurian actors when out of their makeup.
Celebrating Matt Smith's birthday on set.
Karen Gillan's nervousness about doing the sinking through the hole stunt.
People interviewed
[
]
Matt Smith, The Doctor
Ashley Way, Director, Episode 8
Meera Syal, Nasreen Chaudhry
Robert Pugh, Tony Mack
Chris Chibnall, Writer, Episode 8
Steven Moffat, Head Writer
Beth Willis, Executive Producer
Rob Mayor, Prosthetics Supervisor
Arthur Darvill, Rory Williams
Davy Jones, Make-Up Designer
Neve McIntosh, Alaya
Karen Gillan, Amy Pond
Danny Hargreaves, Special Effects Supervisor
David Barrett, Editor, Episode 8
Will Cohen, Visual Effects Supervisor
Mick Vincent, Colourist
Julie Ankerson, Foley Artist
Paul Jefferies, Sound Effects Editor
Jo Sykes, Audio Describer
Tony Hall, Team Leader, BBC Vision

Gary Morris

, Playout Director
Arwel Wyn Jones, Standby Art Director
Music list
[
]
"Number One Enemy" by Daisy Dares You
"Sound of the Underground" by Girls Aloud
"Back to the Start" by Lily Allen
"Saving My Face" by KT Tunstall
"Bein' Green" by Van Morrison
"Hole in the Ground" by Bernard Cribbins
"Against All Odds (Dubstep Remix)" by Chase & Status feat. Kano
"Mama Do (Uh Oh, Uh Oh)" by Pixie Lott (also used in DCOM: The Born Identity)
"A Sucker for Your Sound" by I Monster
"The New Transmission" by Lostprophets
"Out of Control" by The Chemical Brothers
Crew
[
]
Elements retained in Cut Down

[

]
to be added
Home video releases
[
]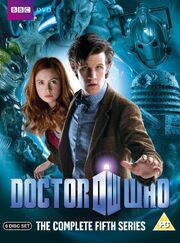 The "Cut Down" version of this episode was included on the Doctor Who: The Complete Fifth Series DVD & Blu-ray box set released on 8 November 2010.