Wiki Targeted (Entertainment)
Play Sound


Absolution was the one hundred and first story in Big Finish's monthly range. It was written by Scott Alan Woodard and featured Paul McGann as the Eighth Doctor, India Fisher as Charlotte Pollard and Conrad Westmaas as C'rizz.
It was Westmaas' final story in his role and saw C'rizz sacrifice himself; to this end, C'rizz joins a small group of companions who died whilst travelling with the Doctor. The consequences of his demise were felt by Charley, leading her to voice a desire to leave the Eighth Doctor's company.
Confession. Penance. Absolution.
The TARDIS breaks down in a forbidden sector of space. Ghostly voices cry out for salvation and only C'rizz, the Doctor's Eutermesan companion, can answer their call — for only he knows the secret of the Absolver. But will he use it to rescue his friends or save the universe?
The Doctor's sins are catching up with him and the infernal beast Borarus is hungry. Time is running out and Judgement Day is at hand.
Welcome to Hell.
to be added
Hellions are transdimensional parasites who home in on chaotic eddies in the probability stream.
Scatterfish are creatures native to Eutermes.
Sherva is a hot drink served on Utebbadon-Tarria.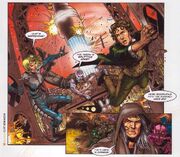 Main Range
Fifth Doctor
Adric, Nyssa, Tegan
Nyssa
Nyssa, Brewster
Nyssa, Hannah
Nyssa, Tegan
Nyssa, Tegan, Marc
Nyssa, Tegan, Turlough
Tegan, Turlough, Kamelion
Tegan, Leela
Turlough
Peri
Peri, Erimem
Amy
Solo travels
All stories in the main monthly range are included in this navigation box including the "subscriber exclusive" stories which are part of Big Finish Productions' subscription service for this range. All other stories are represented in other navigation boxes.
Community content is available under
CC-BY-SA
unless otherwise noted.