Jurassic World: Dominion Dominates Fandom Wikis - The Loop
Play Sound


Absolution was the one hundred and first story in Big Finish's monthly range. It was written by Scott Alan Woodard and featured Paul McGann as the Eighth Doctor, India Fisher as Charlotte Pollard and Conrad Westmaas as C'rizz.
It was Westmaas' final story in his role and saw C'rizz sacrifice himself; to this end, C'rizz joins a small group of companions who died whilst travelling with the Doctor. The consequences of his demise were felt by Charley, leading her to voice a desire to leave the Eighth Doctor's company.
Publisher's summary
[
]
Confession. Penance. Absolution.
The TARDIS breaks down in a forbidden sector of space. Ghostly voices cry out for salvation and only C'rizz, the Doctor's Eutermesan companion, can answer their call — for only he knows the secret of the Absolver. But will he use it to rescue his friends or save the universe?
The Doctor's sins are catching up with him and the infernal beast Borarus is hungry. Time is running out and Judgement Day is at hand.
Welcome to Hell.
Plot
[
]
to be added
Cast
[
]
References
[
]
Places
[
]
Utebbadon-Tarria is in or near the constellation of Aries.
The Citadel is protected by a

induction barrier

. The people living outside the barrier are called

Outlanders

.
One of the places outside the barrier is the

Wood of Suicides

.
Religion
[
]
C'rizz is a member of the Church of the Foundation. As a part of his religion, he "saves" people by killing them. Their voices are trapped in his head and their souls are contained within the Absolver.
According to the Doctor, every culture in every galaxy has a concept of Hell.
The people of Utebbadon-Tarria believe in

the Forsaker

and

Borarus

.
Species
[
]
Hellions are transdimensional parasites who home in on chaotic eddies in the probability stream.
Scatterfish are creatures native to Eutermes.
Culture
[
]
Individuals
[
]
Beverages
[
]
Sherva is a hot drink served on Utebbadon-Tarria.
Biology
[
]
Technology
[
]
An experimental

dimensional probe

accidentally caused a localised inversion of the time-space continuum, turning Utebbadon-Tarria into a place resembling Hell.
The Doctor's TARDIS has a

reciprocation circuit

and

empathic circuits

.
Notes
[
]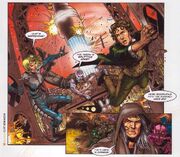 This story introduced a third variation of David Arnold's theme arrangement, which reintroduced the opening sting and slightly altered the ending credits
This story was previewed in Doctor Who Magazine issue 388 with an illustration by

Cliff Robinson

.
This is the final audio drama to feature C'rizz, as played by Conrad Westmaas.
This audio drama was recorded on 26 and 27 June 2007 at The Moat Studios.
This story was originally released on CD and download.
This story was set after the 1996 Doctor Who TV Movie.
Continuity
[
]
External links
[
]
Main Range
Fifth Doctor
Adric, Nyssa, Tegan
Nyssa
Nyssa, Brewster
Nyssa, Hannah
Nyssa, Tegan
Nyssa, Tegan, Marc
Nyssa, Tegan, Turlough
Tegan, Turlough, Kamelion
Tegan, Leela
Turlough
Peri
Peri, Erimem
Amy
Solo travels
All stories in the main monthly range are included in this navigation box including the "subscriber exclusive" stories which are part of Big Finish Productions' subscription service for this range. All other stories are represented in other navigation boxes.