Aardman Animations were the studio who produced the games Doctor Who Game Maker and Don't Blink.
They are well known for their claymation productions: Wallace and Gromit, written by Bob Baker and starring Peter Sallis, Shaun the Sheep, and the 2000 film Chicken Run. They also produced the 2006 computer-animated Flashed Away, featuring Bill Nighy as Whitey. David Tennant voiced Charles Darwin in their film The Pirates! In an Adventure with Scientists!.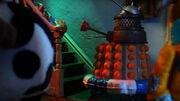 One episode of Shaun the Sheep, entitled Party Animals, had one of the sheep dress up as a Dalek for the Farmer's birthday party. The Farmer is briefly scared by his entrance, and the Dalek-sheep has trouble getting up the stairs.
External links
Edit
Community content is available under
CC-BY-SA
unless otherwise noted.