Aardman Animations were the studio who produced the games Doctor Who Game Maker and Don't Blink.
They are well known for their claymation productions, most famously Wallace and Gromit, Shaun the Sheep, and Creature Comforts.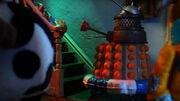 One episode of Shaun the Sheep, entitled Party Animals, had one of the sheep dress up as a Dalek for the Farmer's birthday party. The Farmer is briefly scared by his entrance, and the Dalek-sheep has trouble getting up the stairs.
Connections
Edit
For the Wallace & Gromit franchise, Peter Sallis provided the voice of Wallace until his retirement in 2010. Bob Baker wrote the short films The Wrong Trousers, A Close Shave, and A Matter of Loaf and Death, as well as the 2005 theatrical film Wallace & Gromit: The Curse of the Were-Rabbit, and all six episodes of Wallace & Gromit's World of Invention.
Peter Hawkins provided the canine vocals for the otherwise mute Gromit in A Grand Day Out and A Close Shave. The latter film also featured the voice of Anne Reid. The feature-length Curse of the Were-Rabbit featured the voices of Peter Kay, Nicholas Smith, Dicken Ashworth, and Edward Kelsey.
For Aardman's other theatrical films, Julia Sawalha and Phil Daniels appeared in 2000's Chicken Run.
Bill Nighy, Ian McKellen, David Suchet, and Miriam Margolyes appeared in 2006's computer-animated Flushed Away. Nighy later appeared again in 2011's, also computer-animated Arthur Christmas, alongside Jim Broadbent.
The 2012 film The Pirates! In an Adventure with Scientists! featured David Tennant, Lenny Henry, Russell Tovey, Brian Blessed, and David Schneider.
The 2018 film Early Man featured Eddie Redmayne, Maisie Williams, Miriam Margolyes, Kayvan Novak, Rob Brydon, Mark Williams, and Simon Greenall.
External links
Edit
Community content is available under
CC-BY-SA
unless otherwise noted.