By 2144, humanity had developed a colony on the Moon which they sent their criminals to. Many countries were "hotter, drier, and harder to live in" than they used to be. The population of Reykjavik was a hundred times bigger than it was in 2044.
In early February, the Bratanian Shroud came to Reykjavik through a rift between dimensions. It survived by living within the city's data stream. The Fifth Doctor came to Reykjavik and defeated the Shroud with knowledge gained from his previous encounter with the Shroud in an aborted timeline. (AUDIO: Repeat Offender)
Aborted timeline
Edit
In an aborted timeline, the Fifth Doctor encountered the Bratanian Shroud in February and was drained of Artron energy by the Shroud. He died without regenerating. The Shroud needed more Artron energy and lured a younger Fifth Doctor to Reykjavik with a fake distress signal. This Doctor was also drained of Artron energy and killed.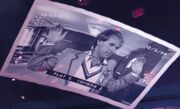 On
12 February
, an even younger Fifth Doctor travelling with
Vislor Turlough
came to Reykjavik following the shroud's distress signal. The Doctor and Turlough tracked the signal to an apartment owned by
Lara Jensen
and
Kat Gunnarsdottir
. When they got to the apartment, the Shroud was possessing Kat. The Doctor forced the Shroud out of Kat with a disruptor field and she fell unconscious. Lara walked in on the Doctor and Turlough over Kat's motionless body and called the police. Inspector
Jill Sveinsdóttir
arrived on the scene and almost arrested the Doctor. The Shroud tried to kill the Doctor by taking control of those around him, but he was able to convince the inspector to destroy the Shroud's method of survival by shutting down Reykjavik's data flow. (
AUDIO
:
Repeat Offender
)
Community content is available under
CC-BY-SA
unless otherwise noted.