2018 was the year in which the newly regenerated Thirteenth Doctor met friends Yasmin Khan, Ryan Sinclair, and Graham O'Brien, whom joined her on her travels as Team TARDIS. (TV: The Woman Who Fell to Earth, et al.) Continuing from [[2017|the previous year, Erimem and her friends were still based in London during their travels through time, (PROSE: The Egyptian Falcon) and Torchwood Three continued to operate in Cardiff. (AUDIO: Cardiff Unknown - October 2018)
According to some accounts, by this time, Earth was politically divided into "zones" overseen by the World Zone Authority, a successor to the United Nations. A major challenge faced by the organisation was deteriorating environmental conditions and overpopulation. Nations were grouped into Zones answerable to a World President. Each Zone had its own Controller but a centralised security agency under a World Security Chief had jurisdiction over the whole body, and visas and passes were needed to move from zone to zone. (TV: The Enemy of the World) Another source placed this structure as operating in 2030 instead. (PROSE: Doctor Who and the Enemy of the World)
Other accounts indicated this was not the case as Jack Robertson, the businessman who owned the hotel brand Robertson Luxury Hotels, planned to contest Donald Trump as President of the United States in the 2020 election. (TV: Arachnids in the UK) Another source indicated the American President was Daniel Strunk. (PROSE: The Enemy of My Enemy Is My Enemy) Additionally, nation-states such as Norway were identified as existing in this year, (TV: It Takes You Away) and local police forces such as Hallamshire Police operated in 2018. (TV: The Woman Who Fell to Earth)
As calculated by NASA scientists, 5 January was one of two opportunities to send humans to Mars within a 15 year period, with the planetary alignment on this day meaning the journey there and back would take only 501 days. This deadline passed without the opportunity being acted on, so astronauts were sent to Mars in 2021. (PROSE: And a Dog to Walk)
In September, after falling from her TARDIS post-regeneration, the Thirteenth Doctor met Yasmin Khan, Ryan Sinclair, and Graham and Grace O'Brien. Together, they discovered that Stenza Tim Shaw had come to Earth to hunt a trophy, Karl Wright. He was defeated by the Doctor implanting DNA bombs into him. After he discovered this, he teleported back to his homeworld. Grace died after falling off a crane.
On Wednesday 14 September, a football match was played between Sheffield and Southport. Rahul had purchased a ticket with a price of £15.00 to attend this match with a seat in the Main Stand Upper Tier of Sheffield stadium.
The Doctor stayed around for Grace's funeral, after which she asked Graham, Yaz, and Ryan locate the TARDIS. Though the trio were meant to stay behind when the Doctor left, they teleported with her into deep space. (TV: The Woman Who Fell to Earth)
The Doctor returned Yaz, Ryan and Graham to Sheffield several hours, though from their perspective they had spent longer away on their travels. Team TARDIS subsequently uncovered the giant spider activity in South Yorkshire due to toxic waste under Jack Robertson's hotel. Shortly after containing the mutant spiders, Yaz, Ryan, and Graham chose to join the Doctor as full-time companions. (TV: Arachnids in the UK)
Some time later, Yaz returned to her family's flat in 2018 for her grandmother's birthday celebrations. (TV: Demons of the Punjab)
On 31 December, Lin and Mitch kissed although both were unsure as to whether it meant they were romantically involved. Lin texted Mitch to summon him to their archaeology site the next day so they could discuss it further. (TV: Resolution)
The Second Doctor and his companions Jamie McCrimmon and Victoria Waterfield landed in Australia and became involved in Giles Kent's plot to overthrow the Doctor's double, Ramón Salamander. Salamander was a powerful figure involved in the global politics of this era. Around this time, parts of central Europe were devastated by volcanic eruptions. (TV: The Enemy of the World) One account placed these events in 2030. (PROSE: Doctor Who and the Enemy of the World)
Because of the contract she signed with Jimmy Moriarty, Gillian Petra had to wait until 2018 to publish papers on her experience of meeting Sherlock Holmes through time travel. (PROSE: Erasing Sherlock)
Ace bought a copy of NME outside Ladbroke Grove hypertube station. In it, the Seventh Doctor had placed a personal advert that read, "Ace - Behind You!". (PROSE: Timewyrm: Revelation)
The Biodiversity Tower was built in London. (PROSE: Six Impossible Things Before Breakfast)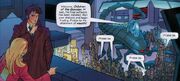 Taking Heather McCrimmon to see the musical Bleak House in Manhattan in 2018, the Tenth Doctor discovered the Gavulav, alien computer hackers, had infiltrated the New York Police Department so that they could fleece Earth's economy. The Doctor used a Gallifreyan counter virus to stop their schemes. (COMIC: The Greed of the Gavulav)
Michelle Montague waged a Twitter war against Daniel Strunk, singlehandedly destroying all support for him. (PROSE: The Enemy of My Enemy Is My Enemy)
The Solitract created a portal to a cottage in Norway through an anti-zone in 2018. It encountered Erik, and taking the form of his late wife Trine, lured him into the Solitract plane to learn about N-Space. When the Thirteenth Doctor arrived at the cottage and encountered Erik and Trine's daughter, Hanne, the Doctor, Graham, Yaz and Hanne entered the Solitract plane, where the Solitract also took the form of Grace O'Brien. As the Solitract plane grew unstable due to the number of travellers from N-Space, it expelled all the travellers but the Doctor, who was also allowed to leave due to her promise of friendship with the Solitract. Team TARDIS thus said their goodbyes to Erik and Hanne. (TV: It Takes You Away)
In an alternate future predicted by the Monks, by 2018, in just one year, all life on Earth would have been destroyed. (TV: The Pyramid at the End of the World)
In another alternate timeline, Ibrahim Hadmani was killed in a car crash in the first week of 2018. (PROSE: Auld Acquaintance)
Community content is available under
CC-BY-SA
unless otherwise noted.