Sonic screwdrivers can't create pages instantly.
This article about a year is currently under construction. It's likely to be a bit messy.
Throughout 2004, there was considerable media coverage and fan speculation surrounding the announced return of Doctor Who to television, especially as production of the first series began. It was announced that Christopher Eccleston, an actor best known for appearances in films such as Elizabeth, Jude and Gone in 60 Seconds, would play the Ninth Doctor. Eyebrows were raised when it was announced that Billie Piper, a well-known pop star of the late 90s/early 2000s, would play the Doctor's new companion, Rose Tyler.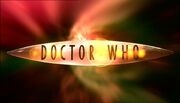 It was announced that no crossover with Paul McGann's Eighth Doctor was planned at this point, nor were any past companions expected to appear in the new series. Initially there were media reports that due to rights issues, the Daleks would not be appearing in the new series, but after these were worked out it was announced that the iconic creatures would indeed appear in the new series. A surprisingly controversial aspect of the new series was the unveiling of a new series logo, which provoked extremely negative response from some fans, with BBC News reporting that some behind-the-scenes personnel had received threats over it.
Footnotes
Community content is available under
CC-BY-SA
unless otherwise noted.