1 Wellington Road, London was the address of Miss Quill and Charlie Smith on Wellington Road when they came to Earth in 2016. The postcode was N1 0HR. (TV: Co-Owner of a Lonely Heart) Their home was situated on the Central line of the London Underground. (PROSE: Joyride)
Charlie kept the Cabinet of Souls in his bedroom. (TV: For Tonight We Might Die, Co-Owner of a Lonely Heart, Brave-ish Heart)
On 27 October, Miss Quill dissected a robot, formerly an Ofsted inspector known as Paul Smith, at the kitchen table, and discovered that it was the property of the Governors. (TV: The Coach with the Dragon Tattoo)
Toward the end of October, Matteusz Andrzejewski moved in with them after falling out with his deeply religious parents over his sexuality. On the same evening, a branch of the Lankin entered the living room disguised as Quill's sister, Orla'ath. Under the watch of Miss Quill, Charlie stabbed it through the hand with a screwdriver in order to interrogate it. After the branch of the Lankin retreated, Quill, Charlie and Matteusz left to save Tanya. (TV: Nightvisiting)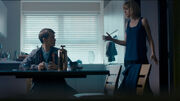 In November, Charlie finally opened the Cabinet of Souls for Matteusz, revealing it was full of the souls of his people, not empty as he had claimed. (TV: Co-Owner of a Lonely Heart)
Later, Miss Quill and new Coal Hill headteacher, Dorothea Ames, asked Charlie to use the Cabinet to destroy the killer petals that were due to kill all humans on Earth. Ames pulled a gun on Charlie and Matteusz to force him to do her bidding, but when she wasn't watching him, Matteusz knocked her out with a candle stick holder, and threw her gun off the balcony. As Charlie prepared to use the Cabinet to destroy either the petals, to save humanity, or the Shadow Kin, to avenge his people, the group watched as April MacLean's Shadow Kin army spread as shadows, killing the petals for them. (TV: Brave-ish Heart)
In a video uploaded to the Class website, Greg Austin, who plays Charlie, gives a tour of his room. He showed off his Mac, the Cabinet of Souls, his "picture of a red cabbage", the star-scape above his bed, and textbooks, including A Primer of Genome Science, Biochemistry and Molecular Biology and Bioinformatics.
Community content is available under
CC-BY-SA
unless otherwise noted.