Jack Harkness
landed on
Ellis Island
in
1927
. His forged visa was stolen by
Angelo Colasanto
. Angelo was imprisoned, but Jack faked papers to let him out. Jack and Angelo eventually found a room to share in
New York City
. They thwarted a plot by the
Trickster's Brigade
to use an
alien parasite
to harm the mind of future
US President
Franklin Delano Roosevelt
, who was to be elected
Governor of New York
in
November
, and allow the
Third Reich
to win
World War II
. Jack disintegrated the creature, but was caught by the
police
. Jack was shot and Angelo arrested. He assumed that Jack was dead. (
TV
:
Immortal Sins
)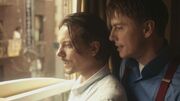 Alternate timelines
In an
alternate timeline
accidentally created by the
Fifth Doctor
, the
RMS Lusitania
did not sink on
7 May
1915
and a petty criminal named
Eric Charles Vincent
(who died in the sinking of the
Lusitania
in the proper timeline) killed
Alexander Fleming
in
December
in a botched robbery attempt before the biologist discovered
penicillin
. Without the protection offered by penicillin, Earth fell prey to new strains of
meningitis
and
pneumonia
in
1956
and the survivors never developed a space programme. Consequently, the
Knights of Velyshaa
were not defeated by the
Earth Alliance
in
3562
, as they otherwise would have been. (
AUDIO
:
The Sirens of Time
)
Community content is available under
CC-BY-SA
unless otherwise noted.