In 1894, a large amount of unusual events occurred in the London area. Either the Paternoster Gang or Henry Gordon Jago and George Litefoot were usually involved in these events.
Dated events
On 11 January, the Eighth Doctor and Samantha Jones encountered Professor George Litefoot and a group of Zygons based in London. (PROSE: The Bodysnatchers)
On 7 February, Tommy Rockless was born in Manchester to Thomas Brockless and Constance Bassett. (TV: To the Last Man)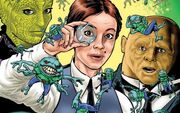 Also in February, the Royal Observatory in Greenwich had a large telescope installed. Shortly afterwards, about a thousand Gremlins settled in the observatory. William Christie noticed bite marks caused by the Gremlins on the telescope's lenses and cleaned them. The next day, the "scratches" were back. After this occurred several times, Christie contacted the Paternoster Gang. Vastra used a special magnifying glass that could see though time to find the Gremlins and the observatory was almost destroyed. Jenny Flint negotiated with the Gremlins and they fixed all the damage they caused. The Paternoster Gang helped the Gremlins find a new home at the bottom of the River Thames.
Two days later, dredgers in the Greenwich area were finding twice as much junk as usual and all of the junk had Gremlin bite marks on it. Rumours were circulating around local taverns of giggling coming from the bottom of the river. (PROSE: The Curious Case of the Miniature Menaces)
Vastra, Jenny, and Strax encountered the blue Minch men in Scotland. (PROSE: The Singular Case of the Blue Men of the Minch)
In June, Faye Garrideb sought out Jenny Flint's assistance with helping to solve the mystery of who was driving customers away from the Palace of Wonder. (PROSE: The Phantom of the Music House)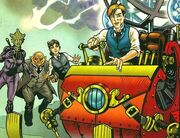 In
September
, Professor
Thaddeus Maine
attempted to demonstrate his working
time machine
at the
Academy of Science
, but
Vastra
talked him out of it after several attempts were made to steal it and kill him. (
PROSE
:
The Singular Case of the Time Machine
)
Community content is available under
CC-BY-SA
unless otherwise noted.