On 16 October 1829, the Seventh Doctor and Bernice Summerfield set sail on the Mermaid. (PROSE: Of the Mermaid and Jupiter)
Behind the scenes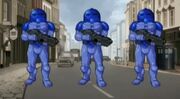 At the beginning of Legacy, the Eleventh Doctor and Vastra arrive in Cardiff on 16 October 1978 to find Sontarans changing history by invading Earth. The Doctor and Vastra defeated the Sontarans, but realised that they had only witnessed the beginning of a Sontaran plot to alter all of time.
Community content is available under
CC-BY-SA
unless otherwise noted.