On 1 March 1562, twenty-five Huguenots were killed at a Reform Church in Wassy, France by the Catholic Duke Francois de Guise. This act sparked the French Religious Wars. (TV: The Massacre; PROSE: The Massacre)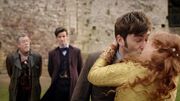 Also in this time period a
Zygon
force was operating in England. Thinking
Elizabeth I
was a Zygon, the
Tenth Doctor
proposed to her as part of a plan to defeat the Zygons, before realising he had proposed to the real Elizabeth. Later, the
Eleventh Doctor
,
War Doctor
, and
Clara Oswald
arrived in this time period due to
time windows
opened by
the Moment
. The three Doctors were imprisoned in the Tower of London. The Zygons froze themselves in
stasis cubes
, hoping to emerge when Earth was more suitable for conquest. The Tenth Doctor married Elizabeth, then left telling her he'd be back soon. (
TV
:
The Day of the Doctor
)
Community content is available under
CC-BY-SA
unless otherwise noted.